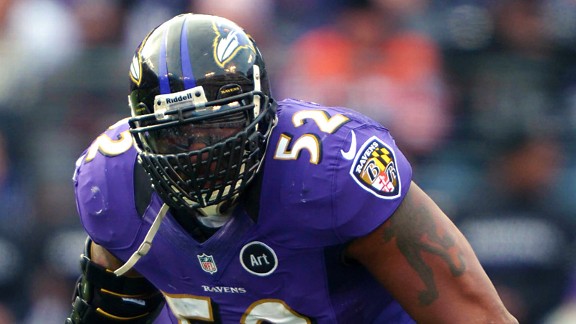 Kirby Lee/Image of Sport/USA TODAY SportsSVP & Russillo discuss Ray Lewis' reputation and the people who bring up his past legal troubles.
Friday, Scott Van Pelt and Ryen Russillo discuss Ray Lewis' reputation, the future of the Pro Bowl and more. Listen to the best highlights of the show below!
Ray's rep - Scott Van Pelt and Ryen Russillo talk about the exposure Ray Lewis' past is receiving in anticipation of the Super Bowl and discuss the people coming out of the woodwork insulting bringing up Lewis' legal troubles from over a decade ago. Listen

ESPN NBA analyst Antonio Davis discusses what Chris Paul's absence means for the Clippers, says the Lakers' locker room may be turning toxic, explains why Brook Lopez is the best center in the east and weighs in on NBA All-Star selections. Listen

Eliminate the Pro Bowl? - Scott Van Pelt and Ryen Russillo chat about the Pro Bowl, the incredibly low quality of the performances and wonder if the game should continue to be played. Listen

QB deja vu? - Scott Van Pelt and Ryen Russillo dish on the similarities and differences between Colin Kaepernick replacing Alex Smith this season and Tom Brady replacing Drew Bledsoe in 2001. Both men agree that a common thread in the two cases is a coach with a strong will. Listen

ESPN NFL analyst Damien Woody says the attitude players have about the Pro Bowl is completely different now than it was when he played. Woody also previews the Super Bowl matchup and says the Ravens' offensive line will have to neutralize San Francisco's pass rush. Listen

One Big Thing - Scott Van Pelt talks about the possibility of Maryland playing its last game against Duke at Cameron Indoor Stadium this weekend and says it's yet another reminder of the changing landscape in college athletics. Listen

PODCASTS
Ryen Russillo and Danny Kanell bring their own flavor to the game, mixing some pop culture with the latest happenings.