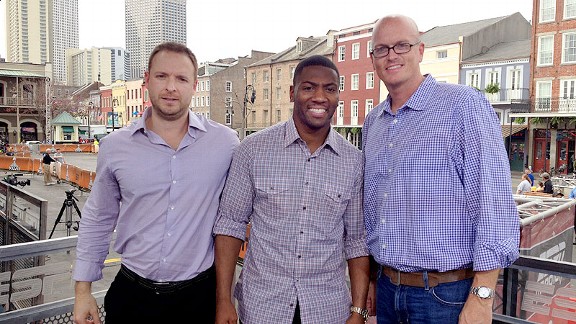 Ray Necci/ESPN RadioSteelers safety Ryan Clark discusses the end of Pittsburgh's season and Bernard Pollard's comments.
Monday, Scott Van Pelt and Ryen Russillo discuss what Rajon Rondo's injury means to the Celtics, President Obama's comments on the safety of football and more. Listen to the best highlights of the show below!
Steelers safety Ryan Clark expresses his disappointment with the way Pittsburgh's season ended, talks about the momentum the Ravens are bringing into the Super Bowl, weighs in on Bernard Pollard's comments about the future of the NFL and more. Listen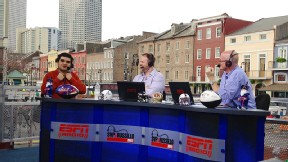 Ray Necci/ESPNKenneth Garay on set with SVP & Russillo.
ESPN NFL analyst Cris Carter discusses the physical nature of the 49ers' game plan, says the extra week of preparation is extremely important for the Ravens and expresses his emotions regarding his candidacy for the Pro Football Hall of Fame. Listen

ESPN Radio's Colin Cowherd chats about New Orleans as a Super Bowl host, the incredible momentum the Ravens are carrying into the Super Bowl and the young quarterbacks who are revolutionizing the NFL. Listen

Evolution of the NFL - Scott Van Pelt and Ryen Russillo discuss Bernard Pollard's comments saying the NFL will be extinct in 30 years. They say although the game will continue to evolve, there's no chance that the league will ever disappear. Listen

ESPN Deportes Radio's Kenneth Garay dishes on his experiences at the Super Bowl, his enormous weight loss, his home town of Miami and much more. Listen

One Big Thing - Scott Van Pelt and Ryen Russillo talk about the issue some fans have with Colin Kaepernick's tattoos and say in this day and age, people should not think less of an athlete or any person for how they choose to express themselves. Listen

PODCASTS
Ryen Russillo and Danny Kanell bring their own flavor to the game, mixing some pop culture with the latest happenings.