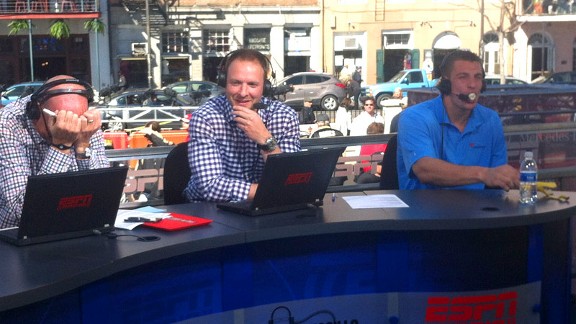 Dustin Stricker/ESPN RadioPatriots tight end Rob Gronkowski shares a laugh with Scott Van Pelt and Ryen Russillo on set.
Thursday, Scott Van Pelt and Ryen Russillo visit with some of the NFL's biggest stars. Listen to the best highlights of the show below!
Patriots tight end Rob Gronkowski talks about his broken arm, laying low on the dance floor, being known as a meat head and why he thinks the Super Bowl will be extremely evenly matched. Listen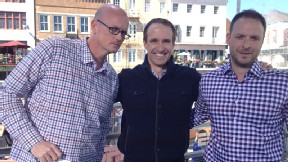 ESPN RadioSaints QB Drew Brees joins SVP & Russillo on set.
Saints quarterback Drew Brees says he's looking forward to putting this year behind him, expects New Orleans to show Roger Goodell plenty of hospitality and talks about the development of young quarterbacks in the NFL, the importance of Sean Payton to the Saints organization and more. Listen

Giants defensive end Justin Tuck chats about the disappointment of missing the playoffs, says the team's run last year may have actually hurt them this year, explains why the 49ers defensive line is so dominant and dishes on Notre Dame's season. Listen

Seahawks cornerback Richard Sherman discusses his reputation as one of the league's most notorious trash talkers, his experiences playing under Jim Harbaugh at Stanford, Seattle's budding rivalry with the 49ers, the talent of San Francisco's wide receivers and more. Listen

Bears linebacker Lance Briggs explains why the 49ers linebackers are the best in the league, says he's extremely unhappy that Lovie Smith was fired, talks about the Bears' struggles late in the season, how the team will accept Marc Trestman and more. Listen

Seahawks quarterback Russell Wilson puts his rookie season in perspective, talks about the strides he took during the year, the excitement of being named the starter before the season and the unique responsibility he has as a short quarterback. Listen

Chiefs running back Jamaal Charles says this season was very frustrating but believes Andy Reid will be able to turn the team into a winner. Charles also talks about the team's difficulties off the field and the death of teammate Jovan Belcher. Listen

PODCASTS
Ryen Russillo and Danny Kanell bring their own flavor to the game, mixing some pop culture with the latest happenings.