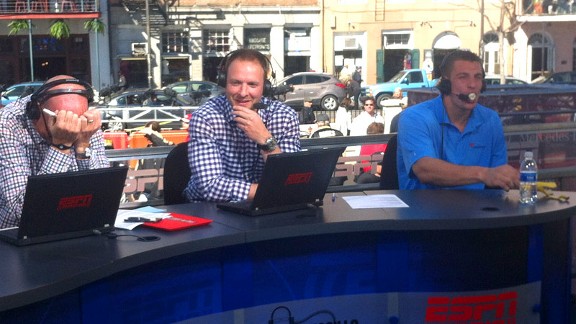 Dustin Stricker/ESPN RadioPatriots tight end Rob Gronkowski shares a laugh with Scott Van Pelt and Ryen Russillo on set.
Friday, Scott Van Pelt and Ryen Russillo visit with some of the sports world's biggest stars. Listen to the best highlights of the show below!
Falcons wide receiver Roddy White says it's frustrating to not be playing in this year's Super Bowl, but adds the 49ers deserve to be there. White also talks about the 49ers' secondary, says the Ravens' receivers are capable of beating San Francisco's coverage and much more. Listen

Giants wide receiver Victor Cruz discusses the differences between last season and this season, says the team could never find itself when it mattered the most and talks about his ongoing contract situation with the Giants. Listen

18-time Olympic gold medalist Michael Phelps talks about his relationship with Ray Lewis and the entire Ravens roster, the advice Lewis has given him throughout his career, his plans for retirement and more. Listen

ESPN NFL analyst Trent Dilfer breaks down what he's looking out for in the Super Bowl, explains why he thinks the 49ers will win the game and talks about the thrill of being a Super Bowl champion. Listen

PODCASTS
Will Cain gives you his unfiltered take on the biggest stories in the sports world.