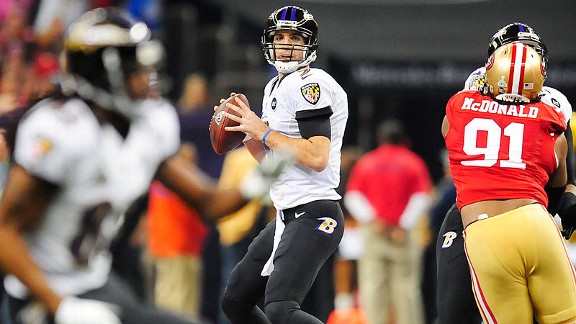 Rob Tringali for ESPNSuper Bowl XLVII MVP Joe Flacco talks about Baltimore's win and his future with the club.
Monday, Scott Van Pelt and Ryen Russillo react to the Ravens' thrilling victory in Super Bowl XLVII. Listen to the best highlights of the show below!
Ravens quarterback Joe Flacco says he is extremely proud of the team's performance all postseason, is quick to credit the offensive line, discusses the turning point of the season and comments on his future with the club. Listen

Ravens tight end Ed Dickson discusses the thrill of winning the Super Bowl, Joe Flacco's MVP performance and the fantastic effort of the offensive line. Dickson also says the power outage was not disruptive and the team maintained a positive attitude throughout the delay. Listen

Ravens linebacker Dannell Ellerbe says the team never doubted itself as the 49ers were making their comeback, comments on the delay from the power outage, talks about the defense's strategy against San Francisco's offense, Ray Lewis passing the torch to the younger players and more. Listen

Super Bowl drama - Scott Van Pelt and Ryen Russillo review the key moments from the Super Bowl. They tackle Baltimore's big first half, the delay caused by the power outage, San Francisco's furious comeback only to fall short in the end. Listen

ESPN NFL analyst Eric Allen says the 49ers' play-calling was curious inside the red zone on their last drive and explains why Ravens CB Jimmy Smith played Michael Crabtree perfectly on the controversial non-call in the end zone. Allen also compliments the play of Anquan Boldin, says Colin Kaepernick showed resiliency and more. Listen

One Big Thing - Scott Van Pelt and Ryen Russillo discuss the dynamic between the Harbaugh brothers and compare the personalities and coaching styles of the two men. Listen

PODCASTS
Ryen Russillo brings his own flavor to the game, mixing some pop culture with the latest happenings.