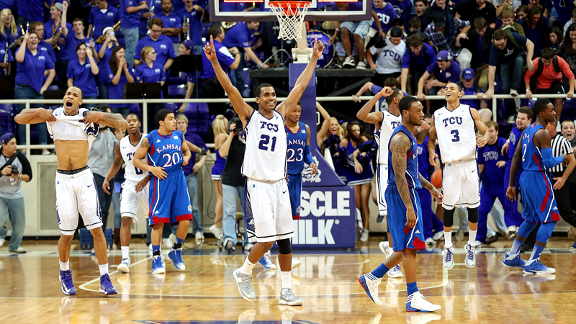 Kevin Jairaj/USA TODAY SportsESPN's Jay Bilas talks about why Kansas became the latest highly ranked team to get upset.
Thursday, Scott Van Pelt, Jonathan Coachman and Chris Broussard delve into a wacky college basketball season, examine the NBA and more. Listen to the best highlights of the show below!
Scott Van Pelt hosting:
ESPN college basketball analyst Jay Bilas talks about the lack of a dominant team in college basketball this season, says the game has gotten too physical, explains why traditionally dominant teams can go through dips in performance and more. Listen

NFL offseason questions - Scott Van Pelt delves into the Giants' roster moves over the past few days and says that organization deserves to be trusted when they release big players. Van Pelt also talks about Michael Vick's future and wonders where he might land if he's cut by the Eagles. Listen

ESPN the Magazine's Chad Millman discusses the latest issue of the magazine which focuses the relationship between sports and music. Millman also weighs in on the most popular bets during the Super Bowl and match fixing in soccer. Listen

Jonathan Coachman and Chris Broussard hosting:
Warriors guard Stephen Curry chats about his hot first half of the season, says not making the All-Star game has motivated him to perform better, talks about the team's outlook for the second half of the season and more. Listen

ESPN's Michael Wilbon says he never criticizes the toughness of a player but has no problem with Kobe Bryant calling out Dwight Howard's toughness. Wilbon also dishes on the progress of Derrick Rose's recovery. Listen

ESPN NFL analyst Brian Dawkins says he expects Michael Vick to remain in Philadelphia, explains why Joe Flacco will receive an enormous contract, talks about Gregg Williams' reinstatement and more. Listen

PODCASTS
Ryen Russillo brings his own flavor to the game, mixing some pop culture with the latest happenings.