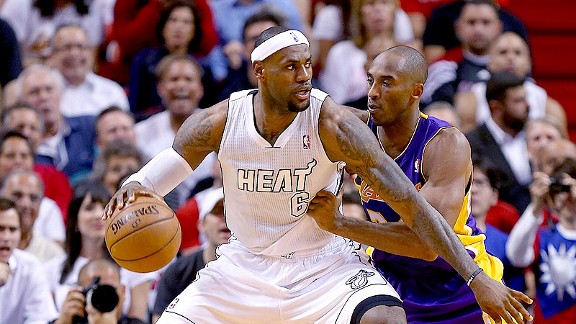 Mike Ehrmann/Getty ImagesBruce Bowen says LeBron James' patience has been one of the keys to his success this season.
Monday, Scott Van Pelt and Ryen Russillo examine LeBron James' incredible stretch, Michael Vick's new deal with the Eagles and more. Listen to the best highlights of the show below!
Historic performance - Scott Van Pelt and Ryen Russillo look at the dominant run LeBron James has been on and marvel at what James has been able to do on the court over the past several games. Listen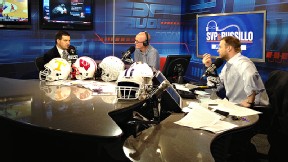 Ray Necci/ESPN RadioJay Paterno joins SVP & Russillo in studio.
ESPN NBA analyst Bruce Bowen talks about how he'd defend LeBron James, says the key to James' success this season has been his increased patience, discusses how smaller lineups are impacting the league this season and more. Listen

Former Penn State coach and son of Joe Paterno, Jay Paterno explains his family's response to the Freeh Report, what he hopes people will take away from the Paterno Report, what he thinks his father's legacy should be and much more. Listen

Wisconsin coach Bo Ryan chats about the thrilling finish to his team's game with Michigan on Saturday, his strategy at the end of regulation and says the Badgers can compete against anyone in the country. Listen

Notre Dame guard Jerian Grant talks about the spectacular ending to the Irish's game against Louisville this weekend, how tired the team was after the game, the players who stepped up as the benches continued to be depleted and more. Listen

CBS Sports' Jeff Goodman says there's an incredible amount of intrigue in how the selection committee will seed the NCAA Tournament this year and believes the conference tournaments will take on even more importance than they usually do. Goodman also comments on Kansas' struggles and Miami's wins over Duke and North Carolina. Listen

PODCASTS
Will Cain gives you his unfiltered take on the biggest stories in the sports world.