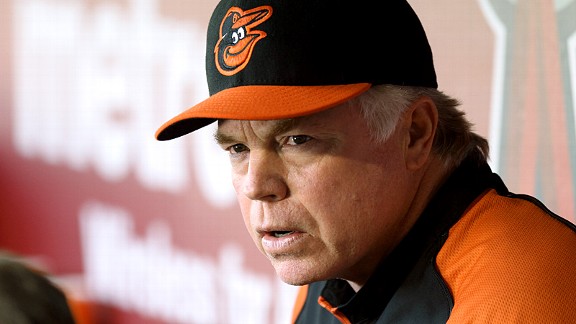 AP Photo/Larry GorenOrioles manager Buck Showalter talks about the team's preparations for the 2013 season.
Tuesday, Scott Van Pelt and Ryen Russillo discuss Michael Vick remaining with the Eagles, debate if Jadeveon Clowney should sit out next season and more. Listen to the best highlights of the show below!
Orioles manager Buck Showalter discusses the challenges of building on the success of last season, says there's no such thing as a "cinderella" in baseball and talks about the pressure to succeed in Baltimore after the Ravens won the Super Bowl. Listen

Pacers forward Paul George talks about making the All-Star team this season, when he felt like a top-notch player in the NBA, the Pacers' success during the first half of the season and much more. Listen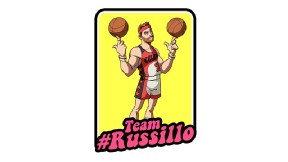 KevJuice.com Stephen A. Smith breaks down Ryen's game.
ESPN college basketball analyst Fran Fraschilla says Kansas' performance over Kansas State was encouraging for the Jayhawks but cautions against believing that the team is repaired. Fraschilla also comments on the incredible parity this year and says there are as many as 30 teams who have a legitimate chance to make the Final Four this season. Listen

ESPN NBA analyst Tim Legler chats about the Spurs' sustained success over the past decade, says the Nuggets are a legitimate contender in the Western Conference, talks about the Celtics' resurgence since losing Rajon Rondo and more. Listen

"First Take's" Stephen A. Smith breaks down how he thinks Ryen Russillo will perform in the Celebrity All-Star Game. Listen

One Big Thing - Scott Van Pelt and Ryen Russillo talk about the push in Washington for the Redskins to change their name and talk about the difficult decisions that must be made when political correctness and sports intersect. Listen

Ryen Russillo joined The Herd with Colin Cowherd on Tuesday to discuss his preparations for the Celebrity All-Star Game, the state of the Knicks, Carmelo Anthony's style of play and more. Listen

PODCASTS
Ryen Russillo brings his own flavor to the game, mixing some pop culture with the latest happenings.