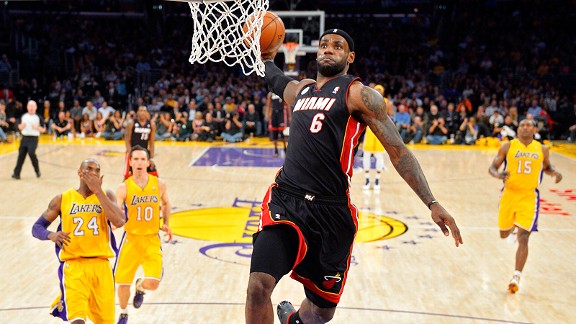 AP Photo/Mark J. TerrillESPN.com's Brian Windhorst delves into the unprecedented recent success of LeBron James.
Thursday, Bram Weinstein and Antonio Davis discuss tonights matchup between the Heat and Thunder, hand out some NBA awards and more. Listen to the best highlights of the show below!
ESPN.com Heat Index writer Brian Windhorst discusses how LeBron James is dealing with the wave of comparisons between he and Michael Jordan, weighs in on how the Thunder will change their approach against the Heat in tonight's game and more. Listen

ESPN the Magazine's Chad Millman talks about why he knew Miami's basketball team would be a title contender this season, explains why the Wizards are one of the safest bets in the NBA this season and much more. Listen

ESPNChicago.com's Nick Friedell says Bulls fans are extremely disappointed by Derrick Rose's comments that he may miss the rest of the season. Friedell adds that Rose still lacks any level of comfort with the knee but is being completely supported by his Bulls teammates and coaches. Listen

ESPNLA.com's Dave McMenamin describes the Lakers' locker room as being "cautiously optimistic" as the All-Star break approaches. McMenamin also talks about Dwight Howard's future in Los Angeles and the budding rivalry with the Clippers. Listen

ESPNBoston.com's Chris Forsberg talks about how the Celtics have been able to tread water recently despite key injuries. Forsberg also discusses Boston's brutal schedule on the other side of the All-Star break. Listen

PODCASTS
Will Cain gives you his unfiltered take on the biggest stories in the sports world.