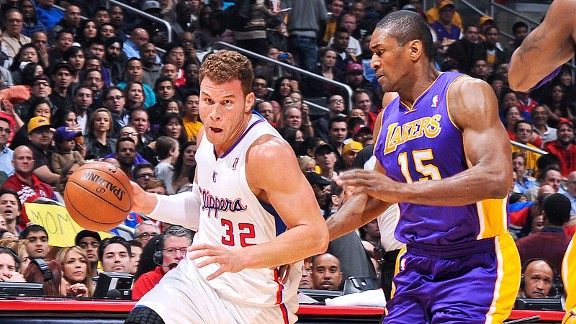 Andrew D. Bernstein/NBAE via Getty ImagesTim Legler talks about how the Clippers took control of their cross-town rivalry with the Lakers.
Friday, Scott Van Pelt and Ryen Russillo examine the NBA at the All-Star break, marvel at LeBron James' recent performances and more. Listen to the best highlights of the show below!
ESPN NBA analyst Tim Legler talks about what made Michael Jordan such a special athlete, talks about what the Lakers will have to do to make the playoffs and discusses some of the biggest surprises of the first half of the season. Listen

ESPN.com's Wright Thompson discusses his recent article profiling Michael Jordan, says Jordan reminds him of Mickey Mantle when Mantle started confronting the aging process. Thompson also comments on Jordan's inability to fill the void left by playing basketball and much more. Listen

One Big Thing - Scott Van Pelt and Ryen Russillo talk about Van Pelt's memories of watching Michael Jordan when Jordan was still at North Carolina and talks about the icon he has become in the past 30 years. Listen

PODCASTS
Will Cain gives you his unfiltered take on the biggest stories in the sports world.