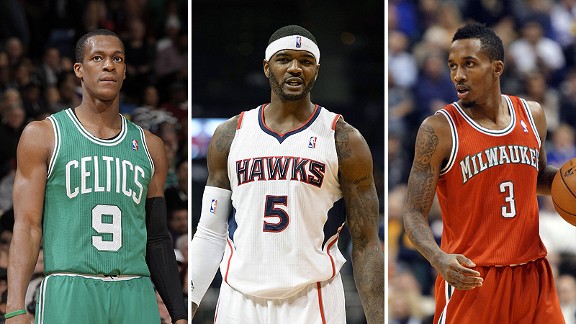 USA TODAY Sports, Getty ImagesWhich NBA players will be on the move before the trade deadline?
Wednesday, Ryen Russillo hosted "SVP & Russillo" with Chris Broussard alongside from 1-2 p.m. ET and Tom Penn from 2-3 p.m.
Check out the best of the show in the podcast. Ryen Russillo discusses the NBA trade deadline with Chris Broussard and Tom Penn. Plus, Jim Corbett, John Clayton and Butler coach Brad Stevens. Listen

USA Today's Jim Corbett talks about his opportunity to speak with former Notre Dame linebacker Manti Te'o, the questions Te'o will face at the combine and his pro potential. Listen

ESPN NFL Insider John Clayton breaks down the latest offseason news heading into the combine. Listen

Butler coach Brad Stevens breaks down where his team is right now and what needs to improve heading into the NCAA tournament. Listen

PODCASTS
Ryen Russillo brings his own flavor to the game, mixing some pop culture with the latest happenings.