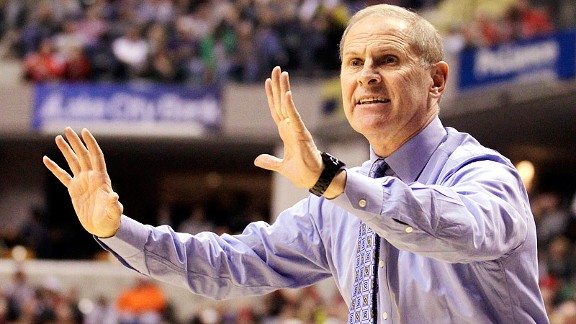 AP Photo/Michael ConroyMichigan coach John Beilein talks about the Wolverines' win over Michigan State and much more.
Monday, Scott Van Pelt and Ryen Russillo discuss Duke's win over Miami, Joe Flacco's new contract and more. Listen to the best highlights of the show below!
Michigan coach John Beilein talks about his team's win over Michigan State, the difficulty of competing in the Big Ten, the incredible talent of point guard Trey Burke and more. Listen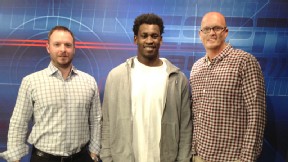 Ray Necci/ESPN Radio 49ers linebacker Aldon Smith with SVP & Russillo.
49ers linebacker Aldon Smith says he made sure he got over the Super Bowl loss quickly, addresses the reasons for his lack of sack production at the end of the season, discusses his plans for the offseason and explains why he thinks former teammate Randy Moss still has a future in the NFL. Listen

Blackhawks coach Joel Quenneville says the consistency of his team's lineup and spectacular goaltending have been the keys to Chicago's points streak. Quenneville also explains how the lockout may have benefitted the squad, compares this year's team to the 2010 team that won the Stanley Cup and more. Listen

ESPN NBA analyst Flip Saunders marvels at Miami's ability to continue its incredible winning streak, discusses how age and injury will catch up with the Spurs and Knicks and predicts who will end up making the postseason field in the Western Conference. Listen

ESPN.com college basketball writer Eamonn Brennan discusses Duke's win over Miami on Saturday and the contributions Ryan Kelly will make to the Blue Devils in the tournament. Brennan also talks about why Georgetown has a case to be a No. 1 seed and which bubble teams hurt themselves the most with losses over the weekend. Listen

One Big Thing - Scott Van Pelt and Ryen Russillo talk about Dick Kelly, a member of the Boston College basketball family who suffers from ALS. Van Pelt says that BC's tribute to Kelly over the weekend is a reminder of the power sports can have. Listen

PODCASTS
Ryen Russillo brings his own flavor to the game, mixing some pop culture with the latest happenings.