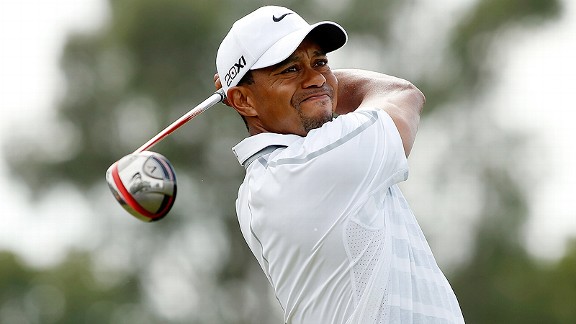 Scott Halleran/Getty ImagesTiger Woods talks about why he's confident he'll win more majors before his career is over.
Monday, Scott Van Pelt and Ryen Russillo discuss Tiger Woods' win over the weekend, the Heat's ability to keep rolling and much more. Listen to the best highlights of the show below!
PGA Tour golfer Tiger Woods says he's extremely confident he'll win several more majors before his career is over. Woods also discusses his improvement as he continues to age, his comfort level on the course, the pressure he knows Rory McIlroy is facing at this point of his career and much more. Listen

Scott Van Pelt and Ryen Russillo discuss the reported deal which will send Percy Harvin to the Seahawks and say although the Seahawks had to give up a lot to get Harvin, he's the type of player who will have an immediate positive impact in Seattle. Listen

ESPN.com director of college scouting Todd McShay explains why Percy Harvin will be a huge asset for the Seahawks. McShay also discusses what teams will look for at pro days vs. the combine, details the depth at linebacker in this year's draft class and talks about the quarterbacks teams will fall in love with. Listen

ESPN college basketball analyst Dan Dakich talks about the importance of Indiana's win over Michigan from the Hoosiers' perspective, explains how Tom Crean has changed his coaching style this season, addresses Syracuse's recent struggles, Duke's success with Ryan Kelly and more. Listen

ESPN NBA analyst Antonio Davis marvels at the Heat's winning streak, says their chemistry is spectacular, weighs in on DeAndre Jordan's mammoth dunk and discusses some of the best dunks he's been involved with. Listen

One Big Thing - Scott Van Pelt and Ryen Russillo discuss the changes taking place on the rosters of the Steelers and Ravens this offseason and wonder if the window is closing on the classic rivalry. Listen

PODCASTS
Will Cain gives you his unfiltered take on the biggest stories in the sports world.