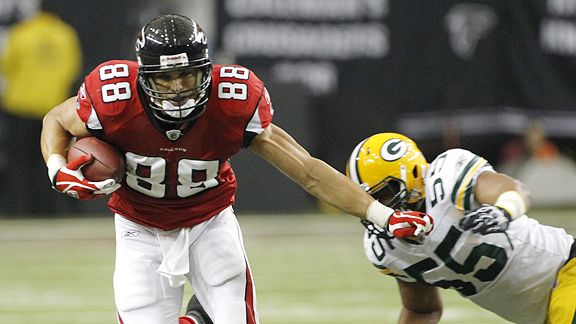 AP Photo/John BazemoreSVP & Russillo react to the news that Falcons TE Tony Gonzalez will return for another season.
Tuesday, Scott Van Pelt and Ryen Russillo discuss the latest news in the NFL, The Spurs' big win over the Thunder and much more. Listen to the best highlights of the show below!
Scott Van Pelt and Ryen Russillo talk about Tony Gonzalez's decision to return for the 2013 season and the trades of Percy Harvin and Anquan Boldin. SVP & Russillo debate which team will benefit the most from these transactions. Listen

ESPN NFL analyst Eric Mangini discusses how organizations can improve their squads quickly through free agency, details the incredible risks of signing a high-priced player, comments on the Harvin and Boldin trades and more. Listen

Davidson coach Bob McKillop chats about the excitement of making the NCAA Tournament yet again, explains how the Wildcats' non-conference schedule is an incredible asset this time of year, discusses the success his former player Stephen Curry is having in the NBA and much more. Listen

One Big Thing - Scott Van Pelt talks about Towson's decision to cut its baseball and soccer programs and says although its a sad reality that colleges have to cut programs, the way the administration at Towson did it couldn't have been more inappropriate. Listen

Check out Scott Van Pelt's appearance on "The Herd" where he chats about the impact Joe Flacco's contract extension with the Ravens and much more. Listen

PODCASTS
Ryen Russillo brings his own flavor to the game, mixing some pop culture with the latest happenings.