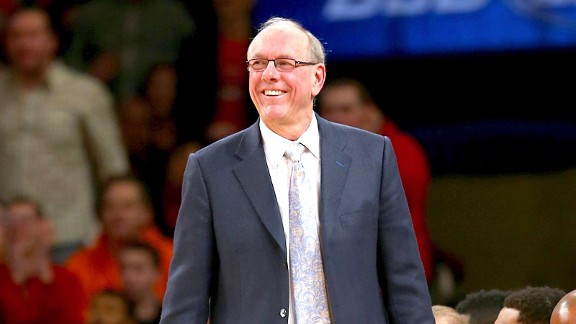 Elsa/Getty ImagesSyracuse coach Jim Boeheim joined the show.
Check out all of the highlights from the Monday edition of "SVP & Russillo" below.
Syracuse coach Jim Boeheim says it was quite emotional playing in the final Big East tournament as we know it. Boeheim also says his team found themselves at the tournament. Listen

VCU coach Shaka Smart explains how different things are this year for his team without anyone saying they shouldn't be in the tournament. That's one element he's not able to use as a motivational tool this time around. Listen

Oregon coach Dana Altman talks about how he and his team feel about being a No. 12 seed after winning the Pac-12 tournament. Listen

LaSalle coach Dr. John Giannini explains how excited his team was when they learned they were in the tournament for the first time since 1992. He thought his team deserved to get in. Listen

PODCASTS
Will Cain gives you his unfiltered take on the biggest stories in the sports world.