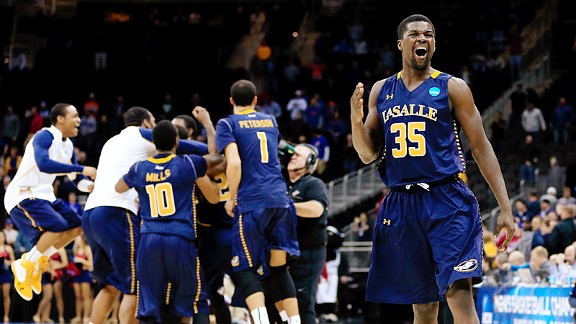 Jamie Squire/Getty ImagesESPN.com's Eamonn Brennan says La Salle has a very realistic shot to reach the Elite Eight.
Thursday, Scott Van Pelt and Ryen Russillo discuss the Bulls ending Miami's winning streak, prepare for the Sweet 16 and much more. Listen to the best highlights of the show below!
ESPN.com's Eamonn Brennan talks about the intriguing matchups in the west regional semifinals, says La Salle has a legitimate shot to go to the Elite Eight, discusses going to every region over the weekend and more. Listen

ESPN college basketball analyst Bruce Pearl discusses the reasons why Shaka Smart elected to remain at VCU, delves into Thursday night's matchup between Syracuse and Indiana and says although the Hoosiers haven't played well lately, they match up extremely well with the Orange. Listen

ESPN's Michael Wilbon gives some historical perspective to the end of the Heat's 27-game win streak, explains why LeBron James is overreacting to being fouled hard and says the complete Bulls roster with Derrick Rose could compete with the Heat. Listen

One Big Thing - Scott Van Pelt and Ryen Russillo discuss a new Nike ad campaign featuring Tiger Woods and wonder why people seem to be taking offense to the message in the advertisements. Listen

PODCASTS
Will Cain gives you his unfiltered take on the biggest stories in the sports world.