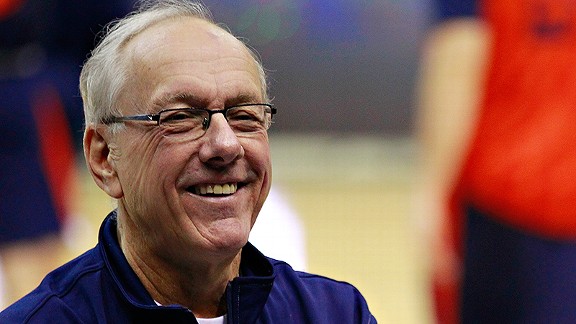 Geoff Burke/USA TODAY SportsSVP & Russillo wonder if Syracuse's Jim Boeheim will sustain his dominance over John Beilein.
Friday, Scott Van Pelt and Ryen Russillo discuss the resignation of Tim Pernetti, preview the Final Four and much more. Listen to the best highlights of the show below!
Scott Van Pelt and Ryen Russillo preview the Final Four, focusing on the intriguing coaching matchup between Jim Boeheim and John Beilein as well as the Cinderella story of Wichita State going up against a heavily favored Louisville squad. Listen

Scott Van Pelt and Ryen Russillo react to Robert Barchi's press conference surrounding the resignation of Rutgers AD Tim Pernetti. SVP & Russillo say ultimately, it's unacceptable that Barchi hadn't seen the video until several days ago and is a greater statement about what's wrong in this situation. Listen

ESPN college basketball Insider Andy Katz chats about the amount of attention being paid to the situation at Rutgers and says Tim Pernetti and Mike Rice might have a hard time getting another job in college athletics. Katz also weighs in on the Final Four and believes Louisville needs to be viewed as the favorite to win the tournament. Listen

MLB on Fox analyst Eric Karros talks about the balanced attack of the Nationals, says the Giants could contend for another World Series title if they stay healthy, explains why the Dodgers will remain competitive throughout the season and more. Listen

ESPN NFL Draft Insider Todd McShay discusses where West Virginia's Geno Smith will wind up in this year's draft, talks about where players like Manti Te'o and Matt Barkley will land and says there will be several defensive linemen taken early but doesn't see a truly dominant player at that position. Listen

One Big Thing - Scott Van Pelt and Ryen Russillo weigh in on the incredible amount of attention Kevin Ware has received since his injury and say Ware has been extremely gracious throughout this entire process. Listen

SVP & Russillo join ESPN Radio's Colin Cowherd to talk about Ed Rush's resignation as the Pac-12's coordinator of officiating, the fallout at Rutgers, the Final Four and more. Listen

PODCASTS
Ryen Russillo brings his own flavor to the game, mixing some pop culture with the latest happenings.