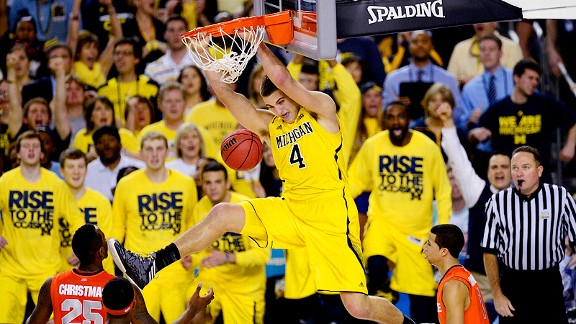 Richard Mackson/USA TODAY SportsSVP & Russillo wonder if Michigan's Mitch McGary will be enough to lift the Wolverines over Louisville.
Monday, Scott Van Pelt and Ryen Russillo discuss title game of the NCAA tournament, the Knicks' big win over the Thunder and much more. Listen to the best highlights of the show below!
Scott Van Pelt and Ryen Russillo dissect the NCAA tournament, focusing on the questionable officiating in the Final Four and look forward to Monday night's title game, giving Louisville and their dominant defense the slight edge over Michigan's powerful offensive attack. Listen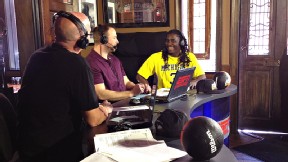 Ray Necci/ESPN Radio Michigan's Denard Robinson with SVP & Russillo.
Former Michigan quarterback Denard Robinson talks about his nerves going into Monday night's game and how much he enjoys being a fan of Michigan athletics. Robinson also dishes on his college football career, his NFL aspirations and his willingness to change positions to become a contributor in the NFL. Listen

ESPN college basketball analyst Jay Bilas says the pacing of Monday night's game will be the key in determining the national champion. He explains how Michigan needs to stay under control when Louisville tries to press and says Louisville guards have stepped up their game during the tournament. Bilas also comments on the quality of play in college basketball and says officiating needs to improve and the game must become less physical. Listen

ESPN college basketball analyst Seth Greenberg discusses the mentality of a team going into a big game, comments on John Beilein's coaching performance this season, talks about the strategy each squad will employ in the game and much more. Listen

CBS Sports' Jeff Goodman talks about Mitch McGary's revival in the postseason and what it means for his pro prospects. Goodman also previews the championship game and says Louisville's guards need to stay out of foul trouble while harassing Michigan's athletic guards. Listen

Hawks center Al Horford chats about his memories from winning a pair of national titles at Florida and his brother's success at Michigan. Horford also weighs in on the Hawks' season and if this is the year Atlanta can make the jump to the next level in the NBA postseason. Listen

PODCASTS
Ryen Russillo brings his own flavor to the game, mixing some pop culture with the latest happenings.