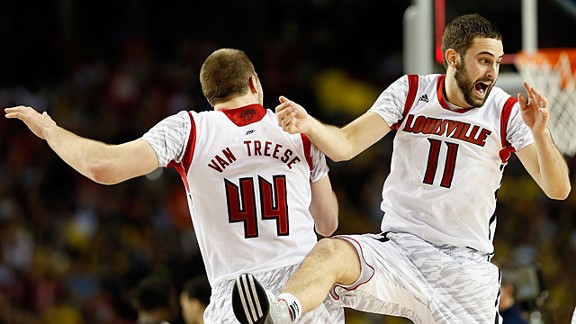 Kevin C. Cox/Getty ImagesDan Dakich talks to Ryen Russillo and Adnan Virk about Luke Hancock's fantastic performance.
Tuesday, Scott Van Pelt and Ryen Russillo discuss Louisville's win over Michigan, the latest with Rob Gronkowski and Darrelle Revis and much more. Listen to the best highlights of the show below!
ESPN college basketball analyst Dan Dakich gives his thoughts on Louisville's win over Michigan, says he's extremely impressed with the speed and pacing of the game, weighs in on John Beilein's decision to sit Trey Burke so many minutes on the first half, Luke Hancock's contributions and more. Listen

Ryen Russillo and Adnan Virk break down the National Championship, giving credit to Louisville for persevering against after falling behind in the first half yet again. Russillo and Virk also discuss Trey Burke's minutes in the game and chat about what this win does for Rick Pitino's legacy. Listen

ESPN college basketball Insider Andy Katz discusses what the atmosphere was like in Atlanta Monday night, puts Louisville's entire season in perspective, says the Cardinals' balance is what ultimately won them the title and talks about what Luke Hancock meant to the squad down the stretch. Listen

ESPN NBA analyst Tim Legler chats about Louisville's win over Michigan. Legler also discusses the Knicks' recent win streak, says New York can beat anyone when Carmelo Anthony plays at a high level and explains what the long-term organizational impact will be in Los Angeles if the Lakers miss the playoffs. Listen

ESPN MLB Insider Tim Kurkjian dishes on the controversial call at the end of last night's game between the Rangers and Rays, Roy Halladay's struggles thus far this season, the prognosis for Jered Weaver, the resurgence of the Upton brothers and more. Listen

PODCASTS
Ryen Russillo and Danny Kanell bring their own flavor to the game, mixing some pop culture with the latest happenings.