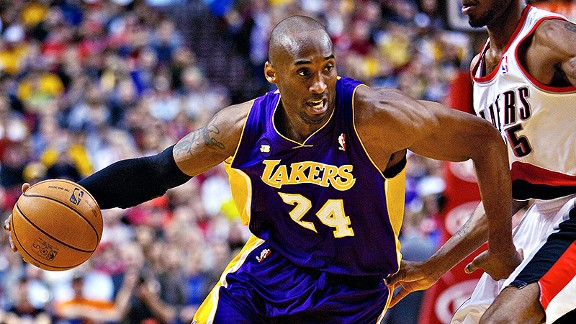 Craig Mitchelldyer/USA TODAY SportsKurt Rambis gives his thoughts on Kobe Bryant's performance against Portland and the playoff race.
Thursday, Ryen Russillo and Seth Greenberg discuss Kobe Bryant's performance on Wednesday night, keep tabs on the Masters and much more. Listen to the best highlights of the show below!
ESPN NBA analyst Kurt Rambis talks about the incredible game Kobe Bryant played against the Blazers, chats about the Lakers chances of making the playoffs, whether or not they'd be a threat in the postseason and whether or not Steve Nash is too much of a defensive liability. Listen

ESPN the Magazine's Chad Millman gives his thoughts on the Masters, examines the playoff picture in the Western Conference and weighs in on an odd story coming out of Chicago's Wrigley Field. Listen

ESPN's Michael Wilbon discusses Tiger Woods' first round at the Masters and says Woods has lost the intimidation factor he used to own. Wilbon also compares the reputation of Tiger Woods to that of Rick Pitino and comments on what Louisville's win does for Pitino's legacy. Listen

Grantland.com's Zach Lowe says there's no reason to think Kobe Bryant can't play at a high level for a long time to come. Lowe also weighs in on the Knicks' recent streak, says they are the only legitimate challenger to the Heat in the Eastern Conference, chats about how the playoff picture is shaping up in the Western Conference and more. Listen

ESPN's Scott Van Pelt chats about the environment at Augusta on Thursday, says the players seem to be enjoying the course and are trying to take advantage of good conditions. Van Pelt also talks about the importance of getting off to a good start for players like Rory McIlroy and others. Listen

PODCASTS
Will Cain gives you his unfiltered take on the biggest stories in the sports world.