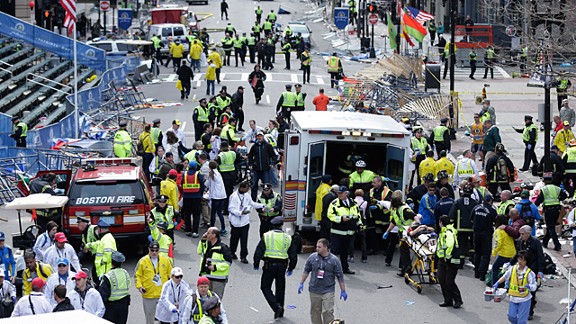 AP Photo/Charles KrupaScott Van Pelt discusses his emotions in the aftermath of the tragedy at the Boston Marathon.
Tuesday, Scott Van Pelt discusses the aftermath from the tragedy in Boston, the battle for the final playoff spot in the Western Conference and more. Listen to the best highlights of the show below!
Scott Van Pelt weighs in on the tragedy in Boston saying while the circumstances are unimaginable, it's always encouraging to see and hear stories of people who do the right thing and help others during trying times. Listen

ESPNBoston.com's Chris Forsberg discusses the emotions of the Celtics in the wake of the tragedy, says the best qualities of the city have emerged since yesterday afternoon, talks about how the people in Boston are moving forward and much more. Listen

Yahoo's Dan Wetzel gives his thoughts on the Boston Marathon tragedy, discusses the spirit of the event and expresses his rage that somebody would attempt to destroy that spirit. Listen

ESPN's Steve Levy talks about yesterday's tragedy in Boston, how the citizens of Boston are dealing with the tragedy and how sports will help with the healing process when the time is right. Listen

ESPN MLB Insider Tim Kurkjian weighs in with his reaction to the Boston Marathon bombings and expresses how impressed he was with how players around MLB reacted. Kurkjian also talks about why the Braves are off to a hot start, explains why the Angels' pitching staff may be in big trouble this season and dishes on why it's gotten so bad for the Marlins. Listen

Former Arkansas quarterback and NFL draft prospect Tyler Wilson talks about his preparations for the draft, the Razorbacks' struggles in 2012, what he could bring to an NFL roster and more. Listen

Sports Illustrated's Andy Staples delves into the violations allegedly committed by the Oregon football program, discusses what the allegations mean for the future of the program, if Chip Kelly will endure any consequences and much more. Listen

One Big Thing Scott Van Pelt recalls the exciting finish to the 1978 scoring race in the NBA between George Gervin and David Thompson, marvels at how cool both players were and relates it to this year's race between Kevin Durant and Carmelo Anthony. Listen

PODCASTS
Ryen Russillo brings his own flavor to the game, mixing some pop culture with the latest happenings.