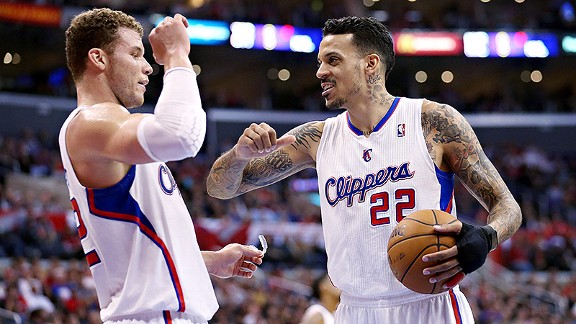 Stephen Dunn/Getty ImagesClippers F Matt Barnes talks about the Clippers' offensive strategy as they head into the playoffs.
Thursday, Scott Van Pelt and Ryen Russillo discuss the Lakers making the playoffs, an emotional night in Boston and more. Listen to the best highlights of the show below!
Clippers forward Matt Barnes believes the Clippers are more balanced heading into the playoffs than they have been at any point in the season. Barnes also comments on L.A.'s offensive attack running through Chris Paul, the team's first round matchup against the Grizzlies and more. Listen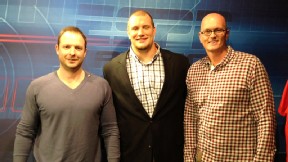 Ray Necci/ESPN RadioNFL prospect Lane Johnson with SVP & Russillo.
Hawks coach Larry Drew discusses how his team will adjust as it heads into the postseason, Atlanta's first round series against the Pacers and the challenges of starting the playoffs on the road. Drew also comments on the expectations in Atlanta and believes if the Hawks play their style of basketball, they'll find postseason success. Listen

Former Oklahoma tackle and NFL prospect Lane Johnson chats about his meteoric rise up teams' draft boards, his preparations for the draft, his relative inexperience at the tackle position and the incredible depth at offensive line in this year's class. Listen

ESPN's Michael Wilbon examines the first round matchups in the NBA playoffs, says the series between the Celtics and Knicks holds the most intrigue, discusses the Lakers' chances to do some damage against the Spurs and more. Listen

Scott Van Pelt and Ryen Russillo talk about the stirring national anthem prior to the Bruins' game against the Sabres and says it's one of the most poignant and impactful moments in recent memory. Listen

Scott and Ryen stop by The Herd with Colin Cowherd to discuss Tiger Woods' performance at the Masters, the length of the NBA postseason and much more. Listen

PODCASTS
Ryen Russillo brings his own flavor to the game, mixing some pop culture with the latest happenings.