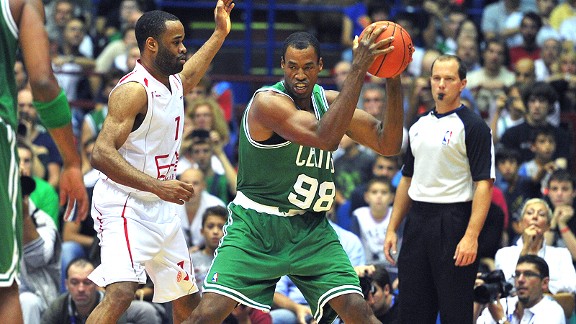 Brian Babineau/NBAE/Getty ImagesScott Van Pelt weighs in on free agent center Jason Collins' decision to announce that he is gay.
Monday, Scott Van Pelt weighs in on Jason Collins' announcement that he's gay, discusses the NBA playoffs and more. Listen to the best highlights of the show below!
Scott Van Pelt gives his thoughts on Jason Collins' announcement that he is gay, commends Collins for having the courage to come out and applauds those who have expressed their support for Collins. Listen

Former NFL player and member of "You Can Play" Wade Davis discusses his reaction to Jason Collins' announcement that he's gay, shares his own experiences as an openly gay former athlete, talks about his decision to not come out when he was still an active player and chats about what the future looks like for gay athletes in America. Listen

ESPN NBA analyst Kurt Rambis discusses Steph Curry's incredible talent shooting the ball, talks about Dwight Howard's future with the Lakers and says while there are several teams which would be intriguing for Howard, he'd be stunned if he left Los Angeles. Rambis also weighs in on Jason Collins' announcement that he's gay and anticipates the majority of players in the NBA will be accepting of Collins. Listen

NFL Network's Charley Casserly talks about winners and losers of the NFL draft, discusses the Jets' decision to release Tim Tebow, what the future may hold for Tebow and chats about whether or not Matt Barkley's fall in the draft will impact the decisions players make in the future regarding whether or not they'll enter the draft. Listen

ESPN NFL analyst Darren Woodson says Tim Tebow simply isn't good enough to be an NFL quarterback and probably won't play QB in the NFL ever again. Woodson also chats about Jason Collins' announcement that he's gay and says he believes an openly gay player would be accepted in the NFL. Listen

ESPN.com director of college scouting Todd McShay takes inventory of this year's NFL draft, discussing who filled the most needs. McShay also weighs in on the Jets' release of Tim Tebow. Listen

PODCASTS
Ryen Russillo and Danny Kanell bring their own flavor to the game, mixing some pop culture with the latest happenings.