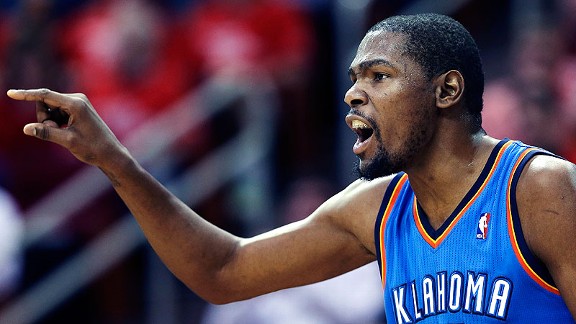 AP Photo/David J. PhillipSVP says the Thunder will be fine once Kevin Durant adjusts to life without Russell Westbrook.
Tuesday, Scott Van Pelt talks about an exciting night in the NBA playoffs, discusses the latest developments in Jason Collins' announcement and more. Listen to the best highlights of the show below!
Scott Van Pelt talks about the Thunder's loss to the Rockets on Monday night. SVP commends Houston's competitiveness but says once Kevin Durant figures out how to play without Russell Westbrook, OKC will be fine. Listen

Jason Collins' twin brother Jarron Collins discusses his reaction to his brother's announcement, talks about when Jason told him, says he was stunned when he found out and talks about the relationship he and his brother now share in light of Jason's announcement. Listen

Stanford assistant coach and former teammate of Jason Collins Mark Madsen says he was stunned when Collins revealed that he is gay. Madsen says he totally supports Collins' decision to come out, adding that NBA locker rooms are very tolerant of people's differences. Listen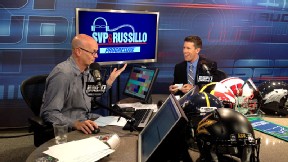 Ray Necci/ESPN RadioCarl Edwards in studio with Scott Van Pelt.
ESPN NBA analyst Tim Legler says Kevin Durant needs to become more comfortable being a more selfish player in the absence of Russell Westbrook. Legler also weighs in on the Grizzlies' success in the last couple of games and Denver's struggles against the Warriors, saying the Nuggets need to keep the ball out of Steph Curry's hands at all costs. Listen

Ryen Russillo gives his thoughts on the adjustments Kevin Durant will have to make for the Thunder and says it's very intriguing to see if the Grizzlies can have the same success on the road that they've had at home. Russillo also discusses the vibe in Los Angeles surrounding Dwight Howard and says the public sentiment towards Howard is extremely negative right now. Listen

Eagles LB Connor Barwin talks about adjusting to life in Philadelphia and his sense of what Chip Kelly's offensive system will bring to the NFL. Barwin also shares his thoughts on Jason Collins' announcement and says an NFL locker room is ready to accept a gay player as well. Listen

NFL Network analyst Daniel Jeremiah explains why the Vikings had such a successful draft and isn't concerned that players like Sharrif Floyd fell to Minnesota late in the first round. Jeremiah also says good teams have good drafts because they are more likely to take the best player on the board. Listen

ESPN MLB Insider Tim Kurkjian discusses the marathon game between the A's and Angels, weighs in on Josh Hamilton's struggles, says Stephen Strasburg simply doesn't look comfortable on the mound and chats about Boston's hot start to the season. Listen

NASCAR driver Carl Edwards talks about the challenges of this week's race at Talladega and weighs in on how a gay driver would be accepted in a NASCAR garage. Listen

One Big Thing - Scott Van Pelt talks about the Kings staying in Sacramento and expresses his pleasure that the situation has seemingly been resolved. He then welcomes in SB Nation's Tom Ziller to discuss the reaction within Sacramento. Listen

PODCASTS
Ryen Russillo brings his own flavor to the game, mixing some pop culture with the latest happenings.