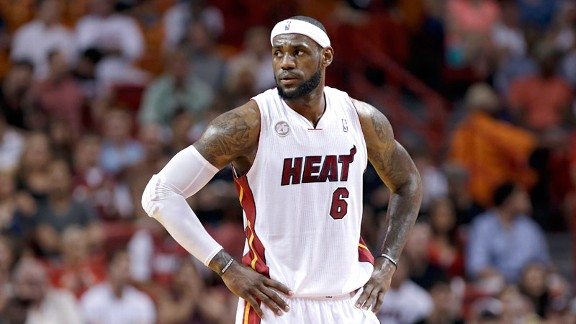 AP Photo/Lynne SladkySVP & Russillo say LeBron James clearly deserved to win this year's NBA MVP award unanimously.
Monday, Scott Van Pelt and Ryen Russillo talk about LeBron James taking home his fourth MVP award, the future of the Celtics and Clippers and much more. Listen to the best highlights of the show below!
SVP & Russillo discuss LeBron James coming one vote shy of unanimously winning the NBA MVP award and weigh in on Gary Washburn's decision to vote for Carmelo Anthony, saying Washburn clearly made the wrong decision. Listen

ESPN NBA analyst Kurt Rambis chats about this year's MVP vote, saying LeBron James was clearly worthy of winning the award unanimously. Rambis also discusses the Thunder's win in Game 1 of their series against the Grizzles, talks about the improvements the Knicks need to make against the Pacers and more. Listen

SVP & Russillo talk about Chris Paul's future with the Clippers, saying that the organization needs to do whatever they can to make sure Paul stays in L.A., even if that means letting him play a key role in determining who will be the team's coach. Listen

SVP & Russillo dish on the Nets decision to let go of P.J. Carlesimo and say the Nets need to look in the mirror and change their approach if they hope to take the next step as a contender in the NBA. The guys also play a game of Yes, No, Why? Listen

Texas A&M coach Kevin Sumlin talks about the improvements being made to Kyle Field, what those improvements will to for the program, the success of last year, Johnny Manziel's offseason and the expectations for the Aggies in 2013. Listen

One Big Thing - Scott Van Pelt and Ryen Russillo talk about Derek Ernst's win at the Wells Fargo Championship and discuss how much Ernst's life will change forever due to the victory. Listen

PODCASTS
Ryen Russillo brings his own flavor to the game, mixing some pop culture with the latest happenings.