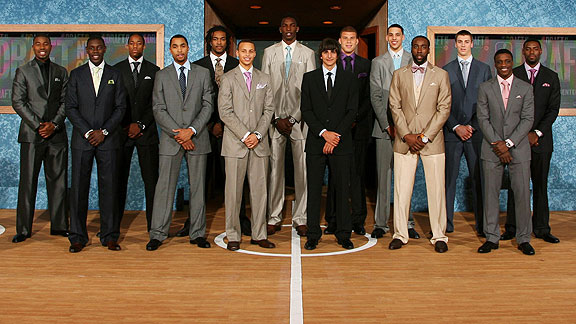 Nathaniel S. Butler/NBAE/Getty ImagesRyen Russillo and Adnan Virk discuss who would go first if the 2009 NBA draft were held today.
Friday, Ryen Russillo and Adnan Virk discuss the 2009 NBA draft, the latest news out of Major League Baseball and more. Listen to the best highlights of the show below!
Ryen Russillo and Adnan Virk revise the 2009 NBA draft and debate whether James Harden, Stephen Curry or Blake Griffin would be taken with the top pick if that draft were held today. Listen

Grantland.com's Zach Lowe gives his thoughts on the 2009 NBA draft, dishes on the impact Andrew Bogut has had on the Warriors this season, talks about what Amare Stoudemire can give the Knicks for the rest of the playoffs and more. Listen

Grizzlies coach Lionel Hollins talks about his team's matchup against the Thunder, discusses how his strategy changes now that it's a best of five series and chats about the emergence of Mike Conley this postseason. Listen

Blue Jays OF Jose Bautista weighs in on Toronto's slow start out of the gate this season, Brett Lawrie's recent actions on Twitter and facing Boston's Clay Buchholz for the first time since Buchholz was accused of throwing spit balls by the Blue Jays' TV crew. Listen

PODCASTS
Will Cain gives you his unfiltered take on the biggest stories in the sports world.