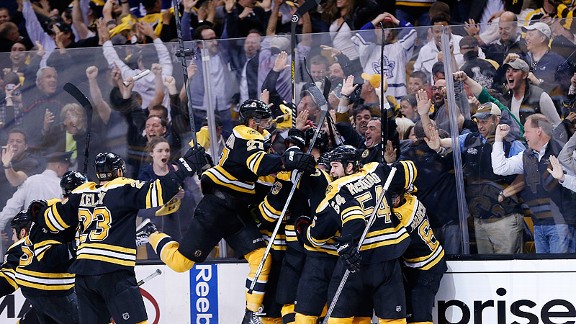 Greg M. Cooper/USA TODAY SportsRyen Russillo and Adnan Virk put the Bruins' comeback win over the Leafs in historical perspective.
Tuesday, Ryen Russillo and Adnan Virk talk about an epic comeback by the Bruins, wins by the Grizzlies and Heat and much more. Listen to the best highlights of the show below!
Ryen Russillo and Adnan Virk discuss the Bruins' incredible comeback against the Leafs, put the game in historical perspective and talk about how crushing the loss is for the people of Toronto. Listen

ESPN college basketball analyst Andy Katz gives his take why top recruit Andrew Wiggins chose to attend Kansas, talks about the Wiggins' skill set, says Wiggins has the type of talent to lead the Jayhawks to the Final Four and explains why he believes Wiggins would have been the top pick in this year's NBA draft if he were eligible. Listen

Clippers forward Matt Barnes talks about the team's early exit from the postseason, his future with the club and gives some insight on whether or not Chris Paul and Vinny Del Negro will return to Los Angeles. Listen

ESPN NBA analyst Jon Barry says Kevin Durant is clearly fatigued, discusses the Grizzlies' skilled defense, says Dwyane Wade's injury could cause problems for the Heat as the playoffs continue and previews Tuesday night's action. Listen

ESPN MLB Insider Tim Kurkjian weighs in on the Yankees' success thus far this season, talks about what Anthony Rizzo's contract extension means for the future of the Cubs, the struggling Dodgers, Bryce Harper's intensity and more. Listen

PODCASTS
Ryen Russillo and Danny Kanell bring their own flavor to the game, mixing some pop culture with the latest happenings.