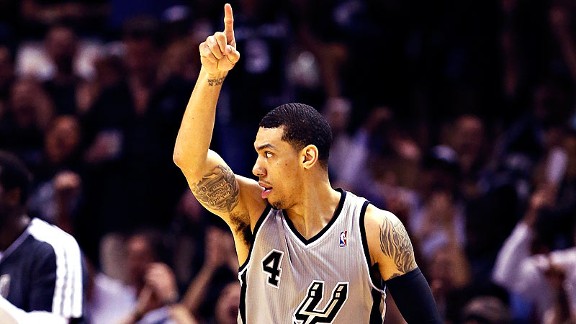 Soobum Im/USA TODAY SportsDanny Green talks about the Spurs' win over the Grizzlies and how they neutralized Zach Randolph.
Monday, Ryen Russillo, Adnan Virk and Antonio Davis discuss the NBA playoffs, Dwight Howard's future and much more. Listen to the best highlights of the show below!
Spurs guard Danny Green talks about the incredible shooting performance the Spurs had in Game 1 against the Grizzlies, the contributions of Tony Parker, San Antonio's defensive scheme against Zach Randolph and what the team learned after losing a 2-0 lead in the Western Conference Finals last year. Listen

Ryen Russillo and Adnan Virk talk about Dwight Howard's future and say while teams like Houston and Dallas may be able to offer Howard more from a basketball perspective, Howard's image will take an enormous hit if he decides to leave Los Angeles. Listen

Ryen Russillo and Adnan Virk ask each other rapid-fire questions about sports and life in another edition of "Six Seconds." Listen

ESPN NBA analyst Antonio Davis puts Ryen and Adnan in their rightful place as the guys play "I Played, You Didn't." Listen

PODCASTS
Ryen Russillo and Danny Kanell bring their own flavor to the game, mixing some pop culture with the latest happenings.