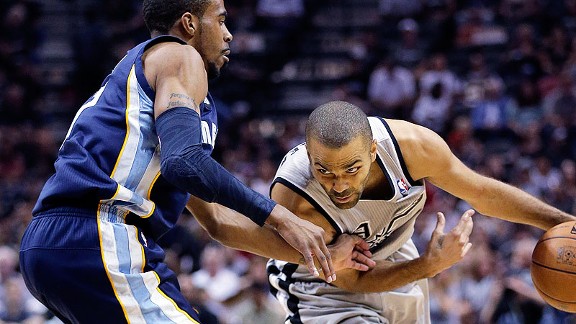 AP Photo/Eric GaySVP & Russillo discuss the Spurs' hard fought overtime win over the Grizzlies in Game 2.
Wednesday, Scott Van Pelt and Ryen Russillo discuss the Spurs' overtime win against the Grizzlies, the Cavs' win in the NBA draft lottery and much more. Listen to the best highlights of the show below!
Scott Van Pelt and Ryen Russillo talk about the Spurs' win over the Grizzlies, the flagrant foul called on Manu Ginobili, and whether the Grizzlies can climb back into the series. The guys also discuss the Cavaliers winning the NBA draft lottery and wonder what the team will do with the top pick. Listen

Cavaliers general manager Chris Grant talks about winning the NBA draft lottery for the second time in three years, discusses what the team may do with the pick, the players at the top of the draft and what they could add to Cleveland's current roster. Grant also chats about the possibility of trading the pick and the support he's getting from owner Dan Gilbert. Listen

SVP & Russillo react to Brian Urlacher announcing his retirement and discuss the reasons why Urlacher decided to ultimately retire rather than make an attempt to catch on with another squad. Listen

ESPN NFL analyst Cris Carter says Brian Urlacher's athleticism is what he'll remember most about playing against Urlacher and talks about the challenges of knowing when is the right time to retire. Carter also discusses the impact of Michael Crabtree's torn Achilles tendon on the 49ers' season and Crabtree's career. Listen

ESPN MLB Insider Buster Olney gives his thoughts on Mike Trout's cycle and compares Trout's production with Miguel Cabrera's. Olney also says Jacoby Ellsbury's lack of production is putting the Red Sox in a tough spot and explains why Cole Hamels' poor start isn't too much of a concern. Listen

Sports Illustrated's Andy Staples talks about why Jadeveon Clowney is more likely to meet expectations than Johnny Manziel. Staples also discusses Louisville's lofty preseason expectations, the pressure on Lane Kiffin, Mack Brown and much more. Listen

One Big Thing - Scott Van Pelt and Ryen Russillo weigh in on Sergio Garcia's controversial comments regarding Tiger Woods and discuss how much heat Sergio should be taking for the offensive remarks. Listen

PODCASTS
Will Cain gives you his unfiltered take on the biggest stories in the sports world.