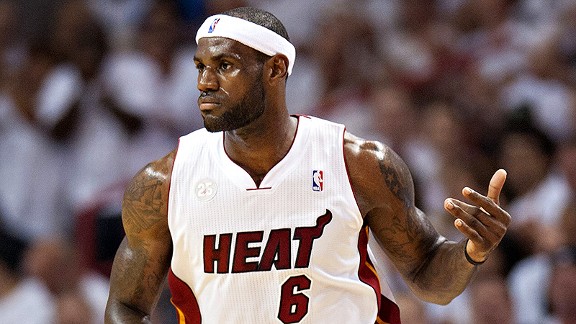 Steve Mitchell/USA TODAY SportsSVP & Russillo say people can no longer make the argument that LeBron James isn't a clutch player.
Thursday, Scott Van Pelt and Ryen Russillo discuss Miami's overtime win over the Pacers, the latest with Robert Griffin III and much more. Listen to the best highlights of the show below!
Scott Van Pelt and Ryen Russillo erase debate by discussing which myths have been debunked the most during the playoffs, including people who still claim that LeBron James isn't a clutch player. Listen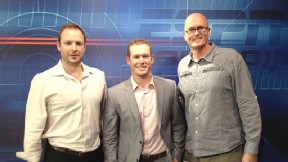 Ray Necci/ESPN Radio Braves P Craig Kimbrel with SVP & Russillo.
ESPN NBA analyst P.J. Carlesimo explains why he doesn't have a problem with Roy Hibbert not being in the game for the last play against the Heat in Game 1 and says James still would have scored even if Hibbert had been in the game. Carlesimo adds that the Pacers still have a good chance to win the series. Listen

ESPN's Michael Wilbon explains why he was so critical of Frank Vogel taking Roy Hibbert out of Game 1 and explains what he would have done differently. Wilbon also weighs in on the Western Conference Finals and talks about what the Grizzlies need to do to get back into the series over the weekend. Listen

Braves pitcher Craig Kimbrel talks about the team's hot start, what the squad learned after faltering down the stretch last season and the success he's experienced early in his career. Kimbrel also discusses the different mental outlook closers possess, the toughest batters he's faced and much more. Listen

SVP & Russillo talk about Robert Griffin III's comments and wonder if the quarterback is doing more harm than good by being so vocal about his status during the off-season. Scott and Ryen also weigh in on Griffin's father talking about how the Redskins should handle his son. Listen

ESPN Radio's Paul Finebaum chats about joining ESPN, the incredible success of the SEC over the past decade, what fans can expect from his show and what he anticipates as the main story lines this college football season. Listen

One Big Thing - Scott Van Pelt and Ryen Russillo talk about Mike Krzyzewski's announcement that he'll return to coach Team USA in the Olympics and discuss the ramifications that this announcement will have in the world of college basketball. Listen

PODCASTS
Ryen Russillo and Danny Kanell bring their own flavor to the game, mixing some pop culture with the latest happenings.