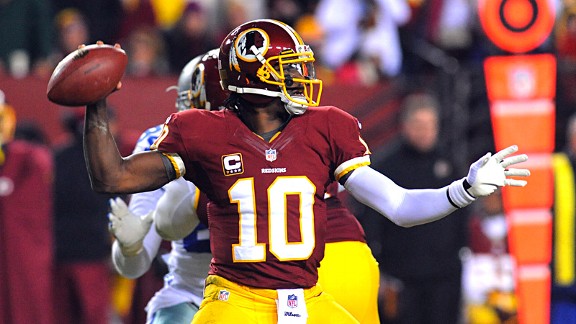 AP Photo/Richard LipskiScott Van Pelt talks about Robert Griffin III's actual value amongst NFL quarterbacks.
Friday, Scott Van Pelt discusses Robert Griffin III's true value, the NBA playoffs and much more. Listen to the best highlights of the show below!
Scott Van Pelt weighs in on Robert Griffin III's value and says although Griffin certainly is a tantalizing player, the claim that he has "the most important knee in the NFL" is unfounded. SVP adds that Griffin is further down the list of top NFL quarterbacks than one may initially think. Listen

Tennessee coach Butch Jones calls in to discuss his preparations for the upcoming season, the challenges of taking over at a program like Tennessee, the Volunteers' rigorous 2013 schedule and how he plans to rebuild the program into a championship contender. Listen

Pirates closer Jason Grilli chats about Pittsburgh's hot start, how the team has learned to win, the pressure on the club after losing for so many seasons, the attitude that manager Clint Hurdle brings to the clubhouse and much more. Listen

ESPN NBA analyst Jon Barry says it's time for the Celtics to start the rebuilding process, talks about the genuine disdain between the Heat and Pacers, says the Pacers need to take better care of the ball to have a chance in Game 2 and weighs in on the Grizzlies' attempt to get back into their series against the Spurs. Listen

ESPN 1070 the Fan's Dan Dakich says he would have had Roy Hibbert on the floor at the end of Game 1 against the Heat, talks about Paul George needs to improve upon, discusses Indiana's hatred for the Heat and the excitement in the city surrounding this weekend's Indianapolis 500. Listen

FOX Sports' Gus Johnson talks about this weekend's UEFA Champions League final, chats about the level of excitement around Europe and discusses the challenges of calling soccer games. Listen

SVP joins The Herd with Colin Cowherd to discuss the differences between coaching in college and the NFL, the Eastern Conference Finals and more. Listen

PODCASTS
Ryen Russillo brings his own flavor to the game, mixing some pop culture with the latest happenings.