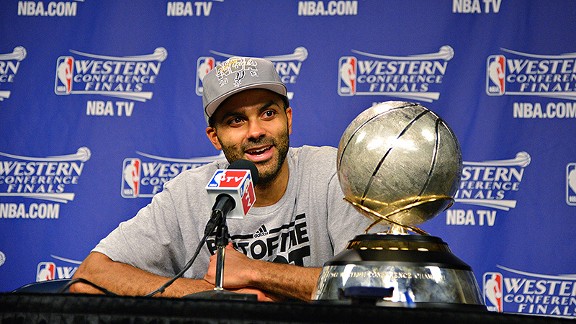 Jesse D. Garrabrant/NBAE/Getty ImagesSpurs G Tony Parker talks to Scott and Ryen about the thrill of reaching yet another NBA Finals.
Thursday, Scott Van Pelt and Ryen Russillo look back on a thrilling Game 7 in the NHL, look forward to a critical Game 5 between the Pacers and Heat and much more. Listen to the best highlights of the show below!
Spurs guard Tony Parker says it's a thrill to be headed back to the NBA Finals, talks about the bond he shares with his teammates and Gregg Popovich, discusses the pressure on the team to win a championship before their window closes and chats about his rank amongst the league's elite point guards. Listen

11-time NBA champion coach Phil Jackson talks about the memories which had the biggest impact on him as he took on the challenge of writing his new book, compares the mental makeups of some of the greatest players he ever coached, discusses how the game has changed over the past several decades, discusses how today's stars would match up against the stars of the past and much more. Listen

Redskins coach Mike Shanahan talks about the progress Robert Griffin III is making, the efforts to keep the quarterback healthy and how Griffin compares to other quarterbacks he has coached. Shanahan also weighs in on the pressure to win in Washington and building on the success of last year's squad. Listen

Baseball Hall of Famer Cal Ripken Jr. discusses the popularity of baseball, what he sees in today's elite players, marvels at the consistent success of organizations like the Cardinals, remembers the challenges of playing in a tough division like the AL East and much more. Listen

Scott Van Pelt and Ryen Russillo talk about the incredibly exciting Game 7 between the Blackhawks and Red Wings and say Chicago showed incredible resolve by winning the game in overtime after a bad break at the end of regulation. Listen

ESPN's Michael Wilbon discusses his excitement over the Blackhawks' win over the Red Wings, talks about the flopping epidemic in the NBA and says he wouldn't be surprised by any result in Game 5 between the Pacers and Heat. Listen

PODCASTS
Ryen Russillo and Danny Kanell bring their own flavor to the game, mixing some pop culture with the latest happenings.