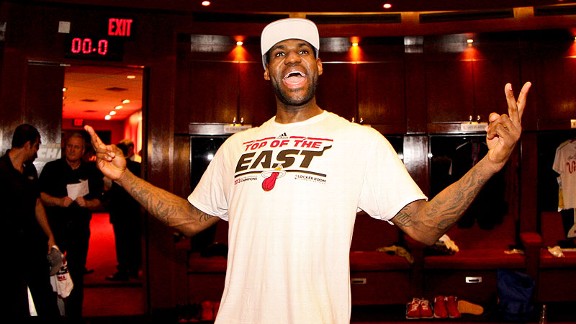 Issac Baldizon/NBAE/Getty ImagesESPN's Michael Wallace talks about the Heat's win in Game 7 and what to expect in the NBA Finals.
Tuesday, Scott Van Pelt and Ryen Russillo react to the Heat's win over the Pacers, look forward to the NBA Finals and much more. Listen to the best highlights of the show below!
ESPN.com Heat Index writer Michael Wallace breaks down the Heat's convincing Game 7 win over the Pacers, Dwyane Wade's health, how Miami will match up with the Spurs and LeBron James' desire for revenge against the Spurs. Listen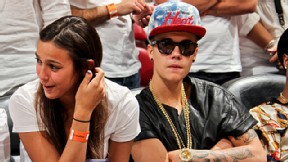 Issac BaldizonSVP angers an army of Justin Bieber fans.
SVP & Russillo discuss Gordon Gee's announcement that he'll retire and say Gee simply couldn't avoid saying controversial things in front of cameras and microphones. Although they don't believe he's a hateful person, he's lucky he's getting off relatively easily. Listen

ESPN MLB Insider Tim Kurkjian discusses the resurgence of Jon Lester, the unlikely winning streak of the Astros, the emergence of Yasiel Puig and Alex Rodriguez's future with the Yankees. Listen

ESPN NHL analyst Barry Melrose talks about the Bruins' dominance of the Penguins, Pittsburgh's struggling stars and the Blackhawks' lead over the Kings early in the conference finals. Listen

Scott Van Pelt and Ryen Russillo talk about getting some flak from Justin Bieber fans in the latest edition of Who hates me on Twitter? Listen

One Big Thing - Scott Van Pelt and Ryen Russillo talk about Donovan McNabb's criticisms of Robert Griffin III and say that McNabb is the perfect person to weigh on on Griffin; not because of his race, but because of the experiences McNabb went through in his own career. Listen

PODCASTS
Ryen Russillo and Danny Kanell bring their own flavor to the game, mixing some pop culture with the latest happenings.