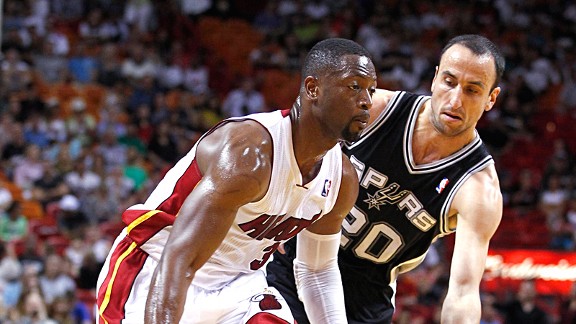 AP Photo/J Pat CarterTim Legler explains why Dwyane Wade and Manu Ginobili will be keys for their teams in the NBA Finals.
Thursday, Scott Van Pelt and Ryen Russillo prepare for the NBA Finals, react to George Karl and the Nuggets parting ways and much more. Listen to the best highlights of the show below!
ESPN NBA analyst Tim Legler previews Game 1 of the NBA Finals, says the health of Manu Ginobili and Dwyane Wade will be key and explains what the Spurs need to do defensively against LeBron James. Listen

SVP & Russillo discuss the Nuggets parting ways with George Karl and say it's clear Denver didn't believe Karl could take them to the next level of playoff success. The guys also speculate on places Karl could be coaching next year including Memphis or with the L.A. Clippers. Listen

Basketball Hall of Famer Julius Erving talks about his life after basketball and the many ups and downs he's experienced through the years. Erving also talks about his playing career, the 1983 76ers squad who won the NBA title and compares the NBA of today with the league he played in. Listen

ESPN's Michael Wilbon shares his memories of Julius Erving and previews the NBA Finals. Wilbon says the Spurs present many matchup problems for the Heat, but explains why he has a hard time picking against the Heat and LeBron James. Listen

SEC commissioner Mike Slive discusses the unprecedented success of the conference in recent years, addresses the animosity other conferences have towards the SEC, talks about the league's scheduling in the upcoming seasons, trying to maintain their dominance on the gridiron and much more. Listen

ESPN the Magazine's Chad Millman talks about the latest issue of the magazine and the fascination the country has with athletes like Mike Tyson and Brittney Griner. Millman also delves into how gamblers are approaching the NBA Finals. Listen

SVP & Russillo break down summer movies and the Stanley Cup Playoffs as they take "The Pulse of the Nation." Listen

PODCASTS
Ryen Russillo brings his own flavor to the game, mixing some pop culture with the latest happenings.