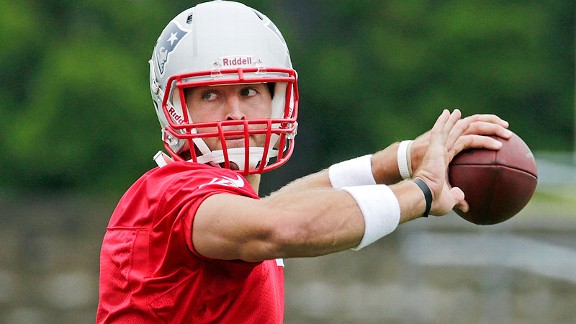 AP Photo/Charles KrupaESPN's Tim Hasselbeck says the Patriots' signing of Tim Tebow is an incredibly low-risk move.
Tuesday, Ryen Russillo and Tim Legler discuss Tim Tebow signing with the Patriots, Game 3 of the NBA Finals and much more. Listen to the best highlights of the show below!
ESPN NFL analyst Tim Hasselbeck says Tim Tebow is certainly good enough to be on a roster at this point, but isn't sure what his role will be in New England as the season draws closer. Hasselbeck also says the deal Tebow signed is indicative of the lack of demand for Tebow and is extremely low-risk for New England. Listen

Twins C Joe Mauer talks about his approach at the plate this season, the Twins' struggles this year and the challenges of working with several new pitchers. Listen

Cubs P Jeff Samardzija dishes on the Cubs' season thus far, his development on the mound, his football career at Notre Dame and whether not he thinks he'd be a successful receiver in the NFL. Listen

ESPN MLB Insider Tim Kurkjian chats about Yusiel Puig's incredible talent, Mike Trout's resurgence and Gerrit Cole's pitching debut with the Pirates. Listen

Baylor coach Art Briles discusses the incredible progress the program has made over the past two seasons, the challenges of having three different starting quarterbacks in three years, the parity in the Big 12 and more. Listen

Scott Van Pelt weighs in on the Patriots' signing of Tim Tebow, the players' patience with the inclement weather at the U.S. Open and Sergio Garcia extending an olive branch to Tiger Woods. Listen

Tim Legler fills Ryen Russillo in on the life of a pro athlete in another edition of "I played, you didn't." Listen

PODCASTS
Will Cain gives you his unfiltered take on the biggest stories in the sports world.