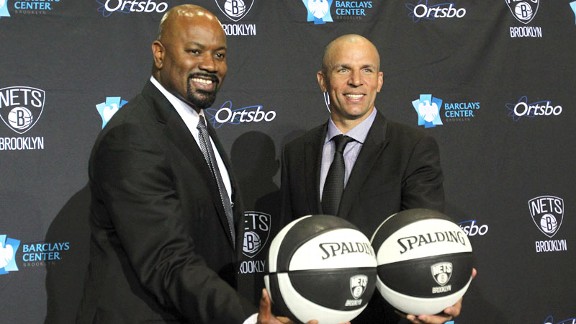 Brad Penner/USA TODAY SportsNets GM Billy King explains why he thinks Jason Kidd is the right man for the job in Brooklyn.
Friday, Ryen Russillo and Adnan Virk discuss the Heat's big win in Game 4, Doc Rivers' future and much more. Listen to the best highlights of the show below!
Nets GM Billy King discusses when he first considered hiring Jason Kidd as the team's coach, says Kidd blew him away during their interview, talks about Kidd's unique relationship with Deron Williams and much more. Listen

ESPN's Bill Simmons gives his take on Dwyane Wade's monster game and Manu Ginobili's struggles, talks about how the Spurs can adjust in Game 5 and offers his thoughts on what the Celtics should do with Doc Rivers. Listen

ESPN NBA analyst Jon Barry says he can't figure out why Dwyane Wade has been so inconsistent recently, discusses what the Heat did well on the defensive side of the ball and talks about the level of confidence he sees coming from Miami's players. Listen

Scott Van Pelt checks in to discuss Adam Scott's struggles on Friday, says the golf course is much more difficult than people anticipated, talks about Phil Mickelson's early success, Tiger Woods' ability to stay in contention and more. Listen

PODCASTS
Will Cain gives you his unfiltered take on the biggest stories in the sports world.