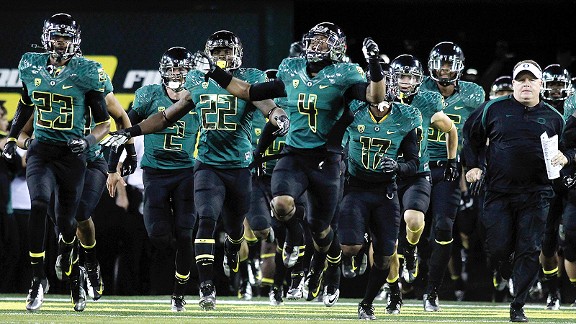 Jonathan Ferrey/Getty ImagesSVP & Russillo break down the sanctions against Oregon and discuss why they're relatively light.
Wednesday, Scott Van Pelt and Ryen Russillo discuss the latest with Aaron Hernandez, examine the sanctions against Oregon and much more. Listen to the best highlights of the show below!
SVP & Russillo talk about the NCAA's sanctions against the Oregon football program, say the penalties aren't very harsh considering the violations and discuss why the Ducks got off relatively easy. Listen

Scott and Ryen discuss Aaron Hernandez being charged with murder and talk about the ramifications of the charges both on and off the field. Listen

ESPNBoston.com's Mike Reiss reacts to the charges being filed against Aaron Hernandez, talks about the Patriots' reaction to the news and discusses where the team goes from here. Listen

Sports Illustrated's Pete Thamel talks about the murder charges against Aaron Hernandez, describes an article he recently wrote about Hernandez and chats about what the expectations are in the future. Listen

USA Today's George Schroeder explains that the sanctions against Oregon are extremely light, talks about what would have happened to the program if Chip Kelly was still coaching the Ducks and says Oregon has a legitimate chance to play for the national title this season. Listen

ESPN college basketball Insider Andy Katz says there are still a lot of question marks surrounding who will be taken at the top of the NBA draft, weighs in on who would be the safest selection to make and much more. Listen

ESPN NBA draft Insider Chad Ford talks about some of the trades he expects to see on draft night, explains why he still believes Nerlens Noel will be the top pick, dishes on the best point guards in the draft and the high-profile players who will still be available late in the first round. Listen

PODCASTS
Ryen Russillo brings his own flavor to the game, mixing some pop culture with the latest happenings.