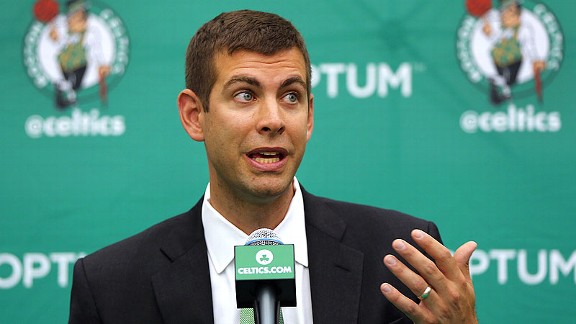 John Tlumacki/The Boston Globe via Getty ImagesRyen Russillo, Chris Forsberg, Dan Dakich and Jeff Goodman weigh in on the Brad Stevens hire.
Friday, Scott Van Pelt discusses Brad Stevens being introduced as Celtics coach, Dwight Howard's free agency and much more. Listen to the best highlights of the show below!
ESPNBoston.com's Chris Forsberg says the expectations for Brad Stevens will be low to start and believes the team's front office will give Stevens a fair chance to prove himself. Forsberg adds that he expects Stevens and Rajon Rondo to get along well and anticipates Rondo will be in Boston for the foreseeable future. Listen

ESPN's Jeff Goodman gives his impressions of the Brad Stevens hire and expresses his concerns over how Stevens will be able to get along with Rajon Rondo. Listen

Ryen Russillo breaks down the Celtics' decision to hire Brad Stevens and talks about what constitutes a successful tenure for Stevens. Russillo also talks about where he expects Dwight Howard to land and more. Listen

ESPN 1070 the Fan's Dan Dakich talks about the shock in Indianapolis over Brad Stevens' departure and comments on where Butler will turn in their search for their next coach. Listen

ESPN MLB Insider Jayson Stark dishes on Justin Verlander regaining his old form, the Pirates' fantastic first half, Yasiel Puig's All-Star candidacy and Chris Davis' pursuit of 62 home runs. Listen

PODCASTS
Ryen Russillo brings his own flavor to the game, mixing some pop culture with the latest happenings.