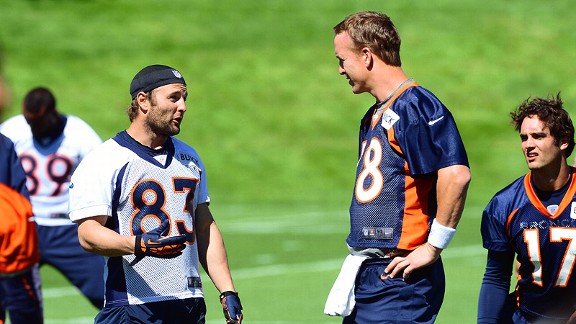 USA TODAY SportsWes Welker talks to SVP about what it's been like preparing for next season with Peyton Manning.
Friday, Scott Van Pelt discusses Freddie Freeman beating out Yasiel Puig, ranks the five best rivalries in the NFL and much more. Listen to the best highlights of the show below!
Broncos wide receiver Wes Welker compares his experiences thus far with the Broncos to his experiences with the Patriots, his initial impressions of playing with Peyton Manning, how he'll be used in Denver's offense, his reaction upon hearing about the Aaron Hernandez case and much more. Listen

TCU coach Gary Patterson discusses the Horned Frogs' preparations for 2013, the difficulty of managing success at a school like TCU, the depth the team has gained over the offseason and how the squad has matured since last season. Listen

Old Dominion quarterback Taylor Heineke chats about the incredible passing numbers he put up last season, the goals for the program as they make the transition to FBS and his aspirations to play at the next level. Listen

Grantland.com's Zach Lowe talks about the future of the Lakers, Kobe Bryant's role in the rebuilding process, the possibility of teams tanking this season to get higher draft picks and more. Listen

SBNation's Spencer Hall weighs in on Syfy's hit film "Sharknado" and says American cinema will never be the same. Listen

PODCASTS
Ryen Russillo brings his own flavor to the game, mixing some pop culture with the latest happenings.