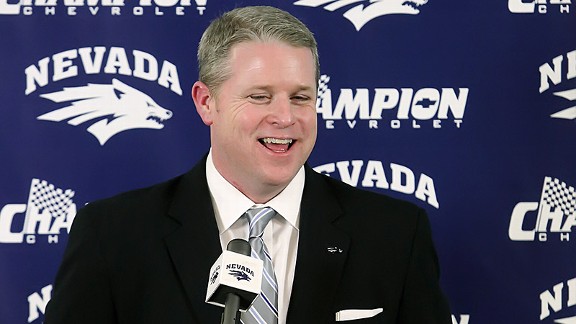 John Byrne, Nevada Media ServicesBrian Polian tells Ryen and Adnan about taking over as Nevada coach and recruiting Johnny Manziel.
Tuesday, Ryen Russillo and Adnan Virk discuss the Home Run Derby and All-Star Game, delve into the latest NBA news and much more. Listen to the best highlights of the show below!
Nevada coach Brian Polian chats about taking over for Hall of Famer Chris Ault as the coach of the Wolfpack, his experiences recruiting Johnny Manziel, the wave of recent negative news surrounding Manziel and much more. Listen

Sports Illustrated's Andy Staples weighs in on the recent stories surrounding Johnny Manziel, talks about what he's seeing at SEC media day and forecasts some of the major stories that will come out of the conference. Listen

ESPN MLB Insider Tim Kurkjian explains why he feels the Pirates will make the playoffs this season, talks about the incredible depth in the AL East, Chris Davis' prolific first half of the season and what he anticipates taking place at the trade deadline. Listen

Scott Van Pelt dishes on the importance of the Open Championship around the world, the dry conditions at Muirfield and which players have the best chances of bringing home the Claret Jug. Listen

Ryen Russillo and Adnan Virk discuss the pressure on Dwight Howard and debate if Howard or Derrick Rose is facing more pressure in 2013. Listen

Ryen and Adnan ask each other rapid-fire questions about sports and life in another edition of Six Seconds. Listen

PODCASTS
Will Cain gives you his unfiltered take on the biggest stories in the sports world.