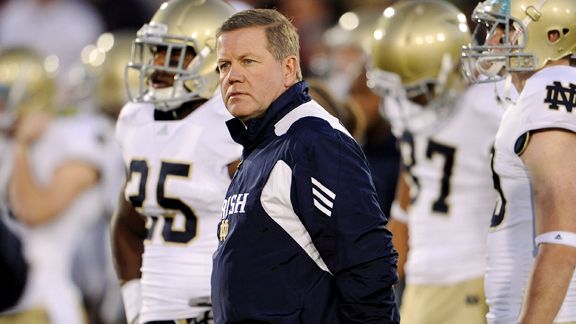 Chris Williams/Icon SMINotre Dame coach Brian Kelly talks about trying to build on the success of last season and more.
Thursday, Ryen Russillo and Max Bretos discuss the possibility the Lakers will make a run at LeBron James and Carmelo Anthony, prepare for the second half of the MLB season and much more. Listen to the best highlights of the show below!
Notre Dame coach Brian Kelly explains what the Irish need to do to build on the success of last season, says he is confident that Tommy Rees will be able to succeed in place of Everett Golson and weighs in on how conference realignment has impacted Notre Dame's schedule. Listen

College Football Live's Joe Tessitore delves into the details of his discussion with Johnny Manziel at SEC media day, contrasts Manziel's style with that of A.J. McCarron and discusses the intense media scrutiny Manziel is facing. Listen

ESPN's Scott Van Pelt discusses Zach Johnson taking the lead at The Open Championship, Tiger Woods' ability to salvage his first round of play and the conditions that seem to be baffling the players thus far. Listen

Ryen Russillo and Max Bretos talk about the introductions of Kevin Garnett and Paul Pierce in Brooklyn and discuss what the expectations should be for the Nets in 2013. Listen

PODCASTS
Ryen Russillo brings his own flavor to the game, mixing some pop culture with the latest happenings.