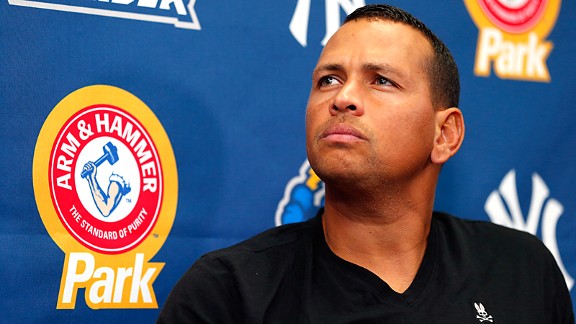 AP Photo/Rich SchultzDanny Kanell and Zubin Mehenti solicit reaction after hearing the news of A-Rod's suspension.
Monday, Danny Kanell and Zubin Mehenti discuss the Biogenesis suspensions, the NCAA's investigation of Johnny Manziel and much more. Listen to the best highlights of the show below!
Danny Kanell and Zubin Mehenti react to the suspension of Alex Rodriguez and discuss the impact of the suspension both immediately and in the long term future. Listen

ESPNNY.com's Wallace Matthews discusses the impact of Alex Rodriguez's suspension, how Rodriguez will be received in the Yankees clubhouse and says the suspension could effectively end A-Rod's career. Listen

Alex Rodriguez's high school coach Rich Hoffman shares his thoughts upon hearing the news of Rodriguez's suspension and talks about the young man he knew some 20 years ago. Listen

ESPN MLB Insider Jayson Stark talks about MLB's suspension of 12 players in connection with the Biogenesis investigation, details why Gio Gonzalez and Danny Valencia were not suspended and describes what can be expected in the coming days. Listen

ESPN sports business reporter Darren Rovell discusses why the NCAA opened an investigation of Johnny Manziel for allegedly profiting from autograph signings and talks about how the investigation could potentially impact Manziel and Texas A&M. Listen

PODCASTS
Ryen Russillo brings his own flavor to the game, mixing some pop culture with the latest happenings.