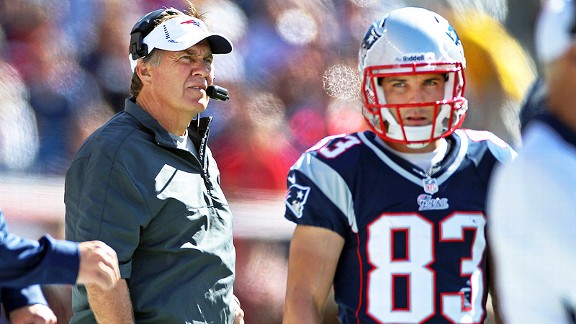 Jim Davis/The Boston Globe/Getty ImagesDanny Kanell and Kevin Negandhi give their thoughts on Wes Welker's criticisms of Bill Belichick.
Thursday, Danny Kanell and Kevin Negandhi discuss Wes Welker's comments on Bill Belichick, keep an eye on the PGA Championship and much more. Listen to the best highlights of the show below!
Danny and Kevin break down Wes Welker's criticisms of Bill Belichick and say it's clear Welker's personality wasn't a good fit to be a typical "Belichick" player. Plus, They discuss which coaches in the NFL they'd most like to play for. Listen

ESPN NFL analyst Brian Dawkins says he isn't surprised Wes Welker is speaking out about Bill Belichick, talks about what he takes out of watching NFL preseason games and weighs in on the drama thus far at Eagles' training camp. Listen

ESPN the Magazine's Chad Millman explains how Texas A&M will be impacted on the field if Johnny Manziel isn't able to play this season, discusses win totals for various NFL clubs and much more. Listen

PODCASTS
Ryen Russillo brings his own flavor to the game, mixing some pop culture with the latest happenings.