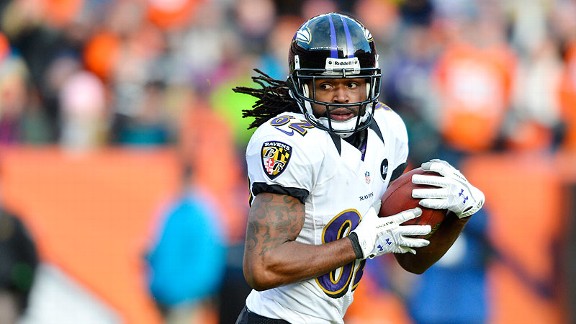 Ron Chenoy/USA TODAY SportsTorrey Smith talks about the Ravens' new leaders and the thrill of being a Super Bowl champion.
Monday, Scott Van Pelt talks about the Jets' QB debacle, backup quarterbacks who could be getting opportunities early this season and much more. Listen to the best highlights of the show below!
Ravens WR Torrey Smith dishes on the turnover of the Ravens' roster this season, talks about who is stepping up as the leaders in the locker room and how his perspective has changed now that he is a Super Bowl champion. Listen

ESPN NFL analyst Jerome Bettis shares his thoughts on Rex Ryan's demeanor in his press conferences, says Mark Sanchez may not have the right make-up to ever find success in New York and talks about the biggest story lines as Week 1 approaches. Listen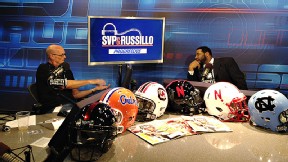 Ray Necci/ESPN Radio ESPN analyst Jerome Bettis in studio with SVP.
ESPN NFL analyst Brian Dawkins discusses how Rex Ryan is handling the Jets' quarterback competition, Mark Sanchez's future with the club, the differences in the level of intensity from preseason to regular season and more. Listen

ESPNMilwaukee.com's Jason Wilde weighs in on Vince Young's performance as the Packers' backup quarterback, Eddie Lacy's progress this preseason and the fallout from Greg Jennings' criticisms of Aaron Rodgers several weeks ago. Listen

ESPN's Danny Kanell gives his perspective on quarterbacks like Vince Young and Matt Leinart trying to get another opportunity in the NFL, chats about the upcoming week of college football and discusses if the ACC will find any success. Listen

ESPN.com college football writer Travis Haney chats about the biggest story lines in college football as Week 1 approaches, points to Clemson and Georgia as teams who can make some noise this season and much more. Listen

PODCASTS
Will Cain gives you his unfiltered take on the biggest stories in the sports world.