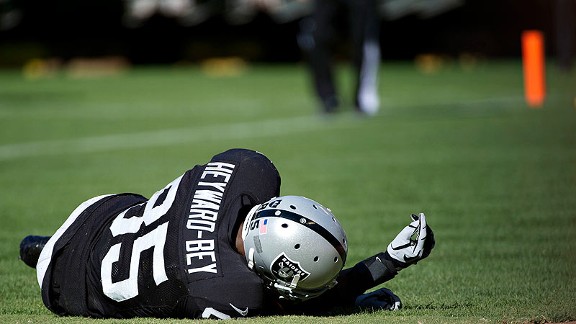 Hector Amezcua/Sacramento Bee/MCT/Getty ImagesRyen Russillo discusses the settlement between the NFL and its players and the implications it has.
Thursday, Ryen Russillo and Bram Weinstein discuss the settlement between the NFL and former players, Johnny Manziel's suspension and much more. Listen to the best highlights of the show below!
Ryen Russillo talks about the $765 million settlement between the NFL and former players pertaining to concussion-related lawsuits and weighs in on the implications of the settlement for the league and its players both now and in the future. Listen

Pro Football Hall of Famer Barry Sanders gives his take on the concussion settlement between the NFL and players, shares his memories of teammates who struggled with concussions and talks about the excitement he gets from watching his son play running back at Stanford. Listen

Scott Van Pelt says the sky's the limit for South Carolina if they can win their first two games of the season, discusses the chances North Carolina can upset the Gamecocks Thursday night and forecasts Saturday's big game between Clemson and Georgia. Listen

ESPN college football analyst Robert Smith shares his thoughts on the lawsuit settlement between the NFL and its players, discusses the teams who could take down Alabama and explains why he thinks Ohio State will finish the regular season undefeated. Listen

ESPN college football analyst Jesse Palmer weighs in on the impact of Johnny Manziel's suspension, the chances Louisville runs the table, South Carolina's national title hopes and more. Listen

ESPN BCS expert Brad Edwards talks about the national title implications in this week's games and explains why Georgia could still play for the championship even if they lose to Clemson on Saturday. Listen

ESPN the Magazine's Chad Millman dishes on how the Johnny Manziel suspension impacts gambling lines, talks about the games he's most looking forward to this weekend and examines gambling trends in both college football and the NFL. Listen

PODCASTS
Ryen Russillo brings his own flavor to the game, mixing some pop culture with the latest happenings.