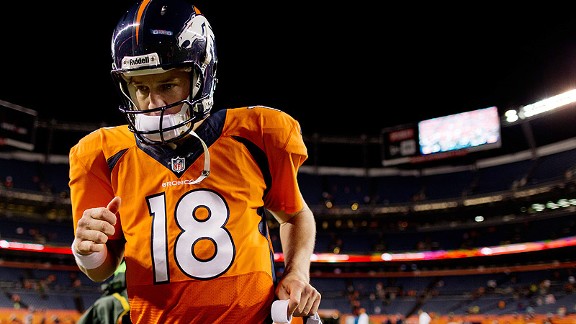 Justin Edmonds/Getty ImagesTedy Bruschi tells SVP and Ryen why Peyton Manning was able to dominate Baltimore's secondary.
Friday, Scott Van Pelt and Ryen Russillo look back on the Broncos' blowout victory over the Ravens, look ahead to the weekend on the gridiron and more. Listen to the best highlights of the show below!
ESPN NFL analyst Tedy Bruschi marvels at Peyton Manning's performance on Thursday night, explains that the Ravens defense doesn't look comfortable together and looks ahead to the marquis matchups of the weekend in the NFL. Listen

Scott and Ryen pick "WINNERS!" Listen

Scott and Ryen forecast the future and write "Monday's Headlines on Friday." Listen

ESPN NFL Draft Insider Todd McShay weighs in on the importance of this weekend's game between Georgia and South Carolina, says he expects a very competitive contest when Miami plays Florida and discusses who has the edge when Michigan hosts Notre Dame. Listen

Yahoo! Sports Shutdown Corner Eric Edholm breaks down the apparent vulnerabilities in the Ravens' secondary, explains why he thinks the Cardinals will exceed expectations this season and talks about the games he'll have his eye on this Sunday. Listen

PODCASTS
Ryen Russillo and Danny Kanell bring their own flavor to the game, mixing some pop culture with the latest happenings.