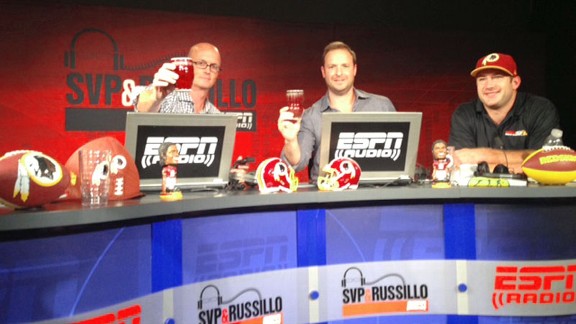 Thomas Shomper/ESPN RadioFormer Redskins TE Chris Cooley tells Scott and Ryen what makes Robert Griffin III a good leader.
Monday, Scott Van Pelt and Ryen Russillo look back on all the action from an exciting weekend in pro and college football and much more. Listen to the best highlights of the show below!
ESPN 980's Chris Cooley chats about his transition from the field to the media, talks about what makes Robert Griffin III a good leader and explains why Washington's defense is a big asset for them this season. Listen

Scott and Ryen discuss what's a big deal from Week 1 and what's merely a blip on the radar in the debut of "Headline or Storyline." Listen

Monday Night Football's Mike Tirico previews the Monday Night matchup between the Redskins and Eagles, discusses his observations from Sunday's action and talks about why the level of play has been so sloppy thus far in the season. Listen

PTI's Tony Kornheiser weighs in on the excitement in Washington surrounding the Redskins, the puzzling relationship between Robert Griffin III and Mike Shanahan and much more. Listen

Monday Night Football's Jon Gruden dishes on Sunday's best games, says Colin Kaepernick is the total package, discusses what he expects to see in Chip Kelly's debut as Philadelphia's head coach and explains why Andrew Luck is such an impressive young player. Listen

The guys break down a huge week on the college football gridiron, focusing on big upset losses for USC, Texas and Florida and a huge bounce back win for Georgia over South Carolina. Listen

Scott and Ryen ask each other rapid-fire questions about sports and life in another edition of Seven Seconds. Listen

PODCASTS
Will Cain gives you his unfiltered take on the biggest stories in the sports world.