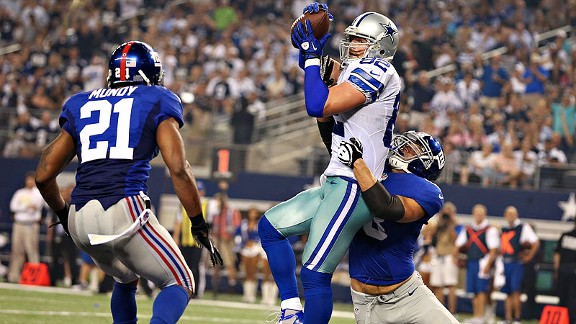 Matthew Emmons/USA TODAY SportsCowboys TE Jason Witten tells Scott and Ryen about preparing for the Broncos and the NFC East.
Tuesday, Scott Van Pelt and Ryen Russillo discuss the Saints' win over the Dolphins, the buzz around Josh Freeman and more. Listen to the best highlights of the show below!
Cowboys TE Jason Witten looks ahead to his team's matchup against the Broncos and shares his thoughts on the Broncos' productive offense, the way Tony Romo reacts to criticism, the NFC East's struggles and more. Listen

Bills WR Robert Woods dishes on the chemistry he has with EJ Manuel, his draft position and the keys to route-running success. Plus, he reacts to the firing of his former coach Lane Kiffin and more. Listen

ESPN NFL analyst Trent Dilfer recaps the Saints' victory and offers his insight on Matt Schaub's future, the change in Josh Freeman, quarterback development and more. Listen

ESPN MLB Insider Tim Kurkjian weighs in on David Price's performance in the Rays' win over the Rangers, Ron Washington's future, the new MLB wild-card game format, Reds-Pirates and more. Listen

Utah coach Kyle Whittingham his team's preparations for the UCLA game, the Utes' offense, recruiting Travis Wilson, playing in the Pac-12 and more. Listen

PODCASTS
Ryen Russillo and Danny Kanell bring their own flavor to the game, mixing some pop culture with the latest happenings.