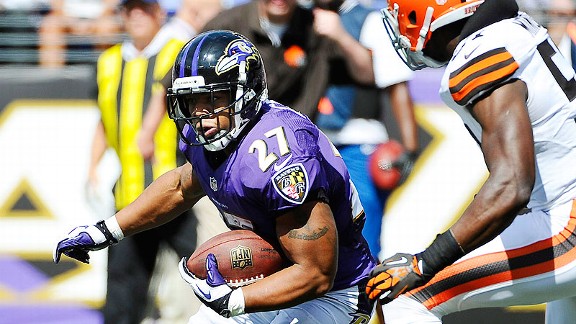 Brad Mills/USA TODAY SportsRavens RB Ray Rice tells Scott about why he doesn't respect fantasy football and the Ravens' start.
Wednesday, Scott Van Pelt covers the Frontline PBS documentary "League of Denial," the MLB playoffs and much more. Listen to the best highlights of the show below!
Ravens RB Ray Rice explains why he has no more respect for fantasy football, comments on the Ravens' roller-coaster start to the season, responds to the Frontline documentary on concussions and says he'd let his sons play football. Listen

49ers LB NaVorro Bowman dishes on what impresses him about Eric Reid, the 49ers' start to the season, Colin Kaepernick's performance, how the NFL's defenseless player rules affect the way he defends and more. Listen

Rams WR Austin Pettis comments on the Rams' struggles, handling fans' irrational behavior, how he feels about player safety in the NFL, the entertainment value in big hits and more. Listen

Oregon coach Mark Helfrich shares his thoughts about how his team can improve, preparing for the game at Washington, players faking injuries, Marcus Mariotas development and more. Listen

Scott shares his reaction to the Frontline documentary on the NFL's treatment of concussions and says, although it was well done, it didn't change his mind about what the realities of football always have been and will likely continue to be. Listen

ESPN NFL analyst Mark Schlereth discusses his reaction to the Frontline documentary on the NFL and concussions, talks about his experiences with head injuries and says he'd never consider giving up football even with this knowledge. Listen

ESPN MLB Insider Tim Kurkjian previews Pirates-Cardinals and reacts to the Dodgers' win over the Braves, teams' unexpected roster choices, Michael Wacha's recent success and more. Listen

PODCASTS
Will Cain gives you his unfiltered take on the biggest stories in the sports world.