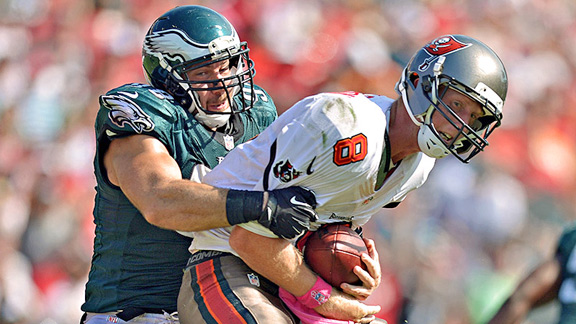 Drew Hallowell/Getty ImagesEagles LB Connor Barwin talks about the effects of Chip Kelly's fast-paced offense on the defense.
Tuesday, Ryen Russillo and Danny Kanell discuss the Chargers' victory over the Colts, the Dodgers' shutout of the Cardinals in NLCS Game 3 and much more. Listen to the best highlights of the show below!
Eagles LB Connor Barwin reacts to Texans fans cheering Matt Schaub's injury and shares his thoughts about the significance of Chip Kelly's impending quarterback decision, transitioning to Philadelphia, how Kelly's fast-paced offense impacts the team's defense and more. Listen

Seahawks S Earl Thomas dishes on his team's defense, Richard Sherman's energy, the Broncos' success this season, why he doesn't watch TV and more. Listen

ESPN NFL analyst Jerome Bettis recaps Colts-Chargers and weighs in on who he thinks is the second-best running back, the Eagles' quarterback situation, which team will take command of the NFC North and more. Listen

ESPN NFL analyst Trent Dilfer offers his insight on the Colts' offensive strategy, which quarterback is a better fit for the Eagles, changes in Tom Brady's play and more. Listen

ESPN MLB Insider Tim Kurkjian reviews Cardinals-Dodgers and talks about how Yasiel Puig's antics affect the Cardinals, Don Mattingly's managerial moves, Prince Fielder's postseason performance and more. Listen

PODCASTS
Will Cain gives you his unfiltered take on the biggest stories in the sports world.